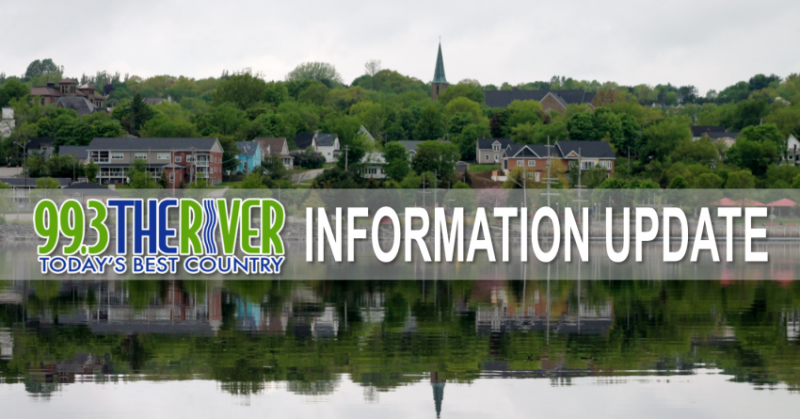 99.3 The River News – January 22, 2021
(ALL STORIES FROM MBS NEWSROOM)
COVID UPD
32 new cases of Covid-19 were reported on Thursday in New Brunswick. The
cases include five in the Moncton area , three each in the Saint John and
Fredericton region; two in the Campbellton-Restigouche region – and 19 in
the Edmundston-Grand Falls health zone. Chief Medical Officer, Dr. Jennifer
Russel, says the situation in the Edmunston region is gravely concerning. She
says six of the cases are connected to the Nadeau Poultry Plant near
Edmundston, where 24 of the health zone's current 112 cases have been
directly linked.
Dr. Russel did say she was optimist that case numbers were stabilizing
elsewhere – but says there are no plans to relax any of the current
restrictions.
Dr. Russel says a lockdown, similar to last spring, is still possible if the
current restrictions are unable to limit the spread of the virus.
As of Thursday there are 324 active cases of Covid-19 in New Brunswick, with
three people hospitalized and two of those patients in intensive care.
—-
Stabbing charges
A young woman from Elsipogtog First Nation has been charged in a stabbing
there Wednesday afternoon.
RCMP say the 18 year old woman has been charged with aggravated assault after
a 22 year old woman was stabbed. She was taken to hospital with serious
injuries.
Tia Augustine appeared in Moncton Provincial Court virtually and was remanded
in custody until a bail hearing Monday.
—-
Testing for yellow
Mayor Adam Lordon would like to see zone 7 -the Miramichi- upgraded to yellow
phase from Orange, despite red zones in other parts of the province…but
there seems to be a problem with low testing numbers in this region.
Mayor Lordon tells the Leader he was told by Public Health officials at a
meeting this week that this area's testing rate is an issue…it's the lowest
in the province. We have had only six confirmed cases of COVID in the
Miramichi since the beginning of the pandemic…and none during the second
wave. People are asking to be tested.
The Mayor says he got the impression Public Health officials are concerned
there are cases of COVID here that have not been detected…and that's why
the region is not being moved to the yellow phase. He and public health are
urging people to get tested who may have only one symptom and think it's just
a cold.
—-
SCHOOL NO SHOWS
Education Minister Dominic Cardy may have made the decision to keep schools
in Red Zones open – but that doesn't mean students are going to classes.
Over 14,000 students were absent from schools yesterday as many parents opted
to keep them home, according to CBC.
Cardy's decision to keep schools open in the red zones has been criticized by
many, including teachers organizations and parents who have an online
petition gathering thousands of signatures.
—-
IRVING JOB CUTS
Job cuts have come to a saint john oil refinery.
More than 60 employees were laid off at the Irving oil refinery in Saint John
yesterday, that's roughly 7% of its workforce.
This follows the 250 layoffs from the company over the summer – 173 of which
were in New Brunswick.
According to the Telegraph-Journal – last year Irving oil cut its workforce
down to 225 from 1000.
The company claims the reason for the layoffs this time, were impacts from
the pandemic, such as reduced demand for jet fuel.
—-
SAFE RESTART
Funding under new Brunswick's Covid-19 safe restart program has been denied to
some municipalities.
69 municipalities in the province applied for the funding,
with a total of $11M being distributed.
The funding covers overtime and extra wages for additional staff but not
regular salaries, which is why some areas were denied the funding or received
lower than what they applied for.
According to the telegraph-journal – 29 municipalities did not submit a claim
either because of breaking even or a reported surplus.
—-
DEFICIT FORECAST
A Larger than expected deficit is expected for the province this year.
Originally it projected a deficit of over $183M by the end of the 2020-21
fiscal year but premier Blaine Higgs says with the red phase restrictions –
it will likely be higher.
However, with employment across the province is rising back up to
pre-pandemic levels, the premier remains optimistic.
In an email to the daily gleaner – finance Minister Ernie Steeves says since
the pandemic continues to impact New Brunswick, it would be premature to give
any final numbers.
—-
NB MAN TURNING 110
A New Brunswick man who turns 110 years old on January 30th has been getting
cards from all across Canada this week.
Arnold Hawkins, the oldest living Canadian, lives in Beaver Harbour, where
his granddaughter recently posted a message on his Facebook page, hoping to
collect 110 birthday cards.
Cheryl McKinley says about two-thousand cards arrived in the mail this week
following her request.
Hawkins is a former fisherman who also survived the Spanish flu pandemic in
1918.
—-
LABOUR FORCE STUDY
A New study suggests retirees outnumber labour market entrants in Atlantic
Canada.
Its expected that within a generation, seniors will out number young people
3-2 in the region.
According to the daily gleaner, that would have a serious impact on the
economy and force employers to come up with new recruitment and retention
methods.
That study also shows the increasing number of business owners set to retire.
—-
OUTDOOR RINKS
Outdoor rinks in Red Zone Municipalities will be shut down as part of the new
restrictions.
This comes from public health recommendations say outdoor gatherings can only
include 5 people or less with physical distancing
According to Brunswick News, Ontario and Calgary have had backlash for
closing their outdoor rinks after images on social media show city works
spreading salt on their ice.
Those measures won't be implemented here as rinks like the one in Dieppe are
gated.
—-
Payette Out
Allegations of a toxic workplace environment at Rideau Hall have cost the
Governor General her job.
Julie Payette is resigning — a first for a Governor-General in Canadian
history — after reports alleging she belittled and publicly humiliated
employees. She says she's leaving to protect the integrity of her office and
for the good of the country.
In a terse statement, the prime minister acknowledged he had received her
resignation. Justin Trudeau says her announcement provides an opportunity for
new leadership at Rideau Hall to address the workplace concerns raised by
employees during the review.
—-
National Numbers
Just under 6,000 new cases with reported yesterday across Canada. But because
of recoveries the number of active cases continued to fall to just over
67,000.  The death toll from COVID-19 however continues to rise with 160 more
yesterday.
—-
Pfiser-Vaccines
Pfizer-BioNTech's delivery slowdown of the COVID-19 vaccine will be more
significant than first indicated.
Major-General Dany Fortin, who's overseeing the vaccine rollout, says Pfizer
won't be delivering any doses to Canada next week — and only a fifth of its
promised allotment the following week.
Pfizer informed Canada last week that its doses will be cut by half over the
next month while the company makes upgrades to a facility in Belgium.
—-
SPORTS
On the ice…the Canadiens pounded the Canucks 7-3 in Vancouver, getting even
for a shootout loss the night before in Vancouver. The Jets downed the
Senators 4-1 in the only other game in the Canadian Division.  Down south,
the Bruins won a 5-4 shootout against the Flyers.