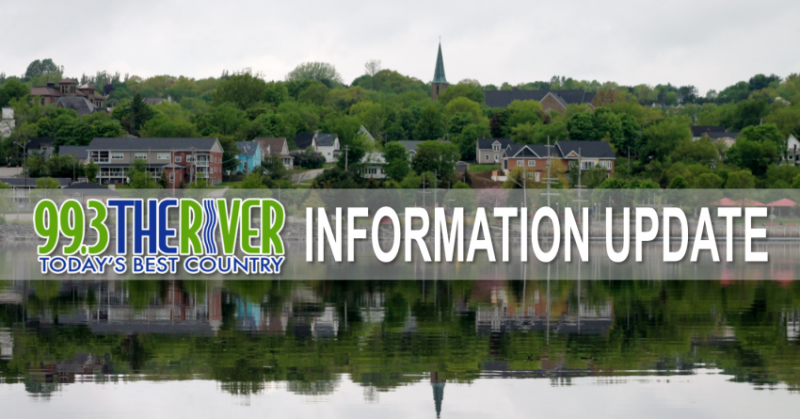 99.3 The River News – January 21, 2021
ALL STORIES FROM MBS NEWSROOM
COVID update
21 new cases of Covid-19 were reported yesterday as New Brunswick passed
another milestone with 1,025 cases since the pandemic began.
Public Health says half of the new cases are in the Edmundston/Grand Falls
region, six in the Moncton area; two in Saint John and one each in the
Fredericton and Campbellton health zones.  (still no cases in the Miramichi.)
A new outbreak has also been declared at a special care home in Edmundston
where the province's Rapid Outbreak Management Team has now been deployed.
There are now 317 active case of the virus in New Brunswick, including two
people in hospital…one of them in intensive care.
—-
LEGER DETAILS
A written decision released after serial killer Alan Legere was denied parole
includes some new information summarizing multiple escape attempts.
It says Legere escaped custody twice in 1987, once in 1989 and then planned
another attempt in 1991 where he intended to take a female jail staff member
hostage.  That was the same year he was convicted of multiple, brutal
killings in Miramichi.
The parole board decision says the 72-year-old remains a high risk to
reoffend, takes no responsibility for his crimes and he expects victims'
families to forgive him and move on.
—-
BATHURST FATAL
A 22-year-old man has been killed in a head-on crash north of Bathurst Tuesday
afternoon.
Police were called to Route 11 in Petit Rocher shortly before 4:00pm where
one vehicle crossed the centre line and smashed into a transport truck.  A
22-year-old man from the Bathurst area died at the scene. The truck driver
was taken to hospital with non-life threatening injuries.
Police are still investigating.
—-
ROAD SALT CONTRACT
The province has extended its road salt contract with the Nutrien mine near
Sussex. The province announced today they had reached a deal to extend its
contract with Nutrien through 2027 – with an option to renew the deal until
2033. The contract will help maintain the roughly 70 jobs at the mine in
Penobsquis. The government of New Brunswick purchased about 180-thousand
tonnes of road salt each year.
The contract renewal is welcome news for the Sussex area – although Nutrien
has reiterated this week that it has no intention of mining Potash again at
the mine either now or in the future.
—-
OUTDOOR RINKS
Outdoor rinks in Red Zone Municipalities will be shut down as part of the new
restrictions.
This comes from public health recommendations say outdoor gatherings can only
include 5 people or less with physical distancing.
According to Brunswick News, Ontario and Calgary have had backlash for
closing their outdoor rinks after images on social media show city works
spreading salt on their ice.
Those measures won't be implemented here as rinks like the one in Dieppe are
gated.
—-
CLOSE SCHOOLS PETITION
A petition started by parents calling on Education Minister Dominic Cardy to
close schools in declared red zones of the province is around 18,000
signatures and growing.
The petition was started after Cardy abruptly announced a change of policy to
keep schools open, when the province placed the Edmundston-Grand Falls region
in the red alert level earlier this week. Since then the Moncton, Saint John
and Fredericton areas have also gone red with schools in each also remaining
open, except for a few where positive cases have turned up.
The union representing teachers has also come out against the policy change.
Cardy has argued that public health officials believe that even in the red
alert level, schools are the best and safest place for children to be.
—-
COVID criticism
People's Alliance Leader Kris Austin says the move to the red phase in four
regions of the province is causing some confusion.
Austin is on the all-party COVID-19 cabinet committee and until a few days
ago he thought red level of recovery meant lockdown…but it doesn't. He says
it's just a version of orange.
Details of a possible lockdown will be discussed by the COVID committee at
its meeting today. Austin says he's not ready to quit that committee
yet…but tells CBC his support for it is waning because of the lack of
information going to opposition party members and the watering down of
restrictions.
—-
MINISTER TO RESIGN?
Calls for the resignation of our Natural resources minister have been
rejected by the premier.
New Brunswick Green Leader David Coon is calling on Natural Resources
Minister Mike Holland to resign because of a letter he wrote to the Energy
and Utilities Board, according to CTV.
Coon says any effort to sway the work of the board is an abuse of power.
Premier Blaine Higgs says he won't ask Holland to resign and that there are
concerns about oil supply and the impacts that the current market and federal
regulations will have on the oil refinery, and the minister was acting on
behalf of government to support a review.
—-
National #s
The COVID caseload continues to ease across the country.
Because of recoveries the active case count has dropped to just under 68 and
a half thousand after being up around 80 at times in the last two weeks.
There were over 5,700 new cases reported yesterday.  The Number of people
passing away from the disease remains high with 196 yesterday.
—-
SPORTS
In the NHL…the Canadiens lost a 6-5 shootout in Vancouver.  Oilers beat the
Leafs 3-1.
In the NBA…the Heat burned the Raptors 111-102.  Sixers downed the Celtics
117-109.