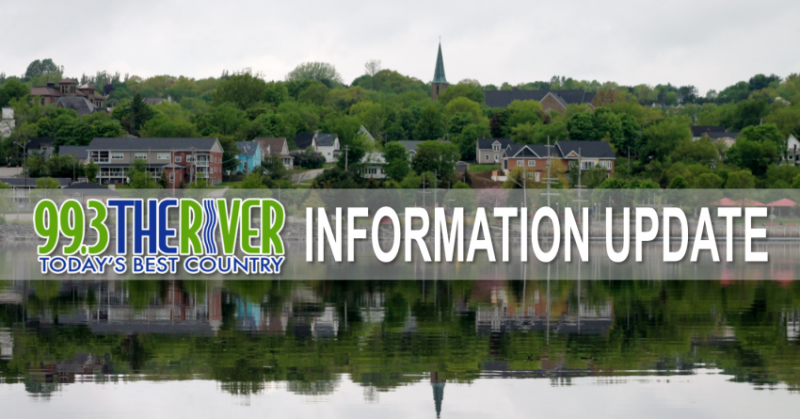 99.3 The River News—-January 11, 2021
ALL STORIES FROM MBS NEWSROOM
—-
COVID UPD    
18 new cases of Covid-19 are being reported in New Brunswick.
Chief Medical Officer,  Dr. Jennifer Russel says eight of the new cases are in Saint John, seven in the Frederitcon region, two in Edmunston and one in Campbellton-Restigouche.
She also has reported a confirmed case at another long term care facility, the 'Foyer Sainte Elizabeth' in Bakersbrook, west of Edmundston.
That's on top of confirmed outbreaks at the Cantebury Hall in Riverview, Fundy Manor in Hillsborough, and Shannex Parkland Saint John where twenty cases have now been confirmed.
Meanwhile, Dr. Russel also announced new travel restrictions.
They include the banning of non-essential travellers from the province and introducing stricter mandatory, multiple  testing requirements for those who are exempted.
Meanwhile Nova Scotia  also announced new restrictions on travel to and from New Brunswick.
Anyone entering Nova Scotia from this province will now have to isolate for
14 days.   There are currently 143 active cases in New Brunswick with 100 of those reported over just the past four days.
—-
TRANSPORT CO
A Transportation Co-Op that was trying to fill transportation gaps in Miramichi and Northumberland County has disbanded…even before it got going fully.
Former board members Michael Mersereau, Randal Boothby and Doug Mullin told the Leader they were giving up because of funding and red taope issues.
Mersereau says they were burned out and just wanted to wash their hands of it.
GoChi was launched in June 2018 on recommendations from a Northumberland Community Inclusion Network's committee on inclusion. But the Network controlled the money and Mersereau says it wouldn't disperse two installments of $50,000 it got from the province and wouldn't talk to them about it. The pandemic made things worse. So the 44 members of GoChi decided to pack it in.
—-
SECOND SHOTS
Public Health gave hundreds of people their second shots of the Pfiser Vaccine at Miramichi Regional Hospital over the weekend.
One of them was Louise Haché, a family doctor from Tracadie who said the only side-effects she felt from the vaccine were a sore arm and sliht headache…but she told CBC there's a much greater risk of catching the illness than having side effects from the vaccine, so get yourself vaccinated.
—-
NATIONAL NUMBERS
The national case numbers show no signs of decreasing with another 7,800 cases reported yesterday….about 4,000 of them just in Ontario where the premiersays hospitalsareon thebrinkof being overwhelmed.
Quebec had over 2,500 new cases the day after an overnight curfew began.
Police say they handed out dozens of tickets to people breaking the curfew, including demonstrators in Quebec City, who are facing fines of up to $6,000.
—-
FIRST NATIONS VACCINE     
Indigenous leaders are encouraging residents of their communities to get vaccinated as the vaccines begin to reach remote First Nations communities across Canada.
Chiefs have spoken about hesitation by some members to get the shot, given the discrimination in health care experienced by some, and the distrust left by residential schools. As of Friday, nearly 10,000 cases of COVID-19 in First Nation communities across the country.
—-
TRUMP IMPEACHMENT
Donald Trump will face a second impeachment trial in the U-S Congress which was targeted by his fanatical supporters last week, at his urging.
Democratic House Speaker says an article of impeachment…incitement to insurrection will be debated….quickly passed and then sent to the senate for a trial. Pelosi says the person running the executive branch is a deranged, unhinged and dangerous president of the United States…and Americans need to be protected from him.
It's doubtful Trump would actually be convicted by the senate before his term expires next week…but the new senate could continue proceedings after its sworn in to prevent him from ever holding any elected office again.