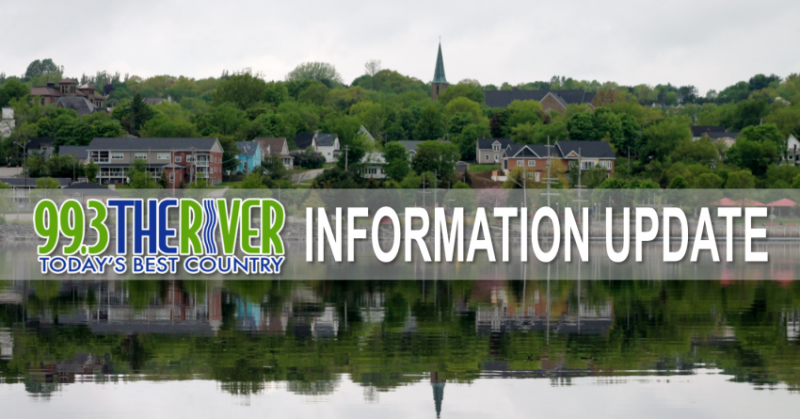 99.3 The River News—-Jan 8th, 2021
ALL STORIES FROM MBS NEWSROOM
—-
COVID      
Another 24 cases of Covid 19 are being reported in New Brunswick today. Chief Medical Officer, Dr. Jennifer Russel, provided details of the new cases
Russel  announced that the province's rapid response team has been dispatched to two additional long term car facilities after cases were confirmed at Cantebury Hall in Riverview and the Fundy Manor in Hillsborugh.
Dr. Russel  says that's in addition to 18 actvie cases, including 11 residents, confirmed with the virus at the Parkland Shannex long term care residence in Saint John. She also warned that we are just staring to see the impact of holiday social gatherings and warned the situation is likely to get worse before it gets better.
There are now 130 active cases of the virus in the province, 82 of those cases have been reported in just the past three days. One person is currently hospitalized in intensive care.
—-
COVID APP   
Dr. Russell is also urging people to download the COVID-19 contact app. She says 836 people are in self-isolation either because they've tested positive for
COVID-19 or are a close contact of a case. Russell says contract tracing is more of a challenge as case numbers rise and says use of the contact app is a critical tool to help get numbers under control.
—-
VIRTUAL GAMBLING                                                       –
The Atlantic Lottery Corporation is allowing for different rules for online gambling in NB
The ALC says normal regulations on limited $2.50 max bets don't apply to it's online games
players are allowed to bet up to $100 per spin, 40 times more than physical games as well as up to $500 per hand of blackjack
The corporation has been pushing for online casino games in Atlantic Canada since 2016. it was only approved by New Brunswick, and not until 2018, it didn't get released to the public till August last year although some critisize the move saying it could increase problems of addiction, its argued those with problems will find a way to gamble through off-shore websites anyways .  CBC reports the online casino is projected to bring $122 million in net revenue over seven years
—-
SLOW VACCINE ROLLOUT    
The provinces are blaming Ottawa for the slower than expected vaccine rollout
Premier Blaine Higgs complains that with the amount of vaccines being delivered to the province, herd immunity won't come until mid-summer the Provinces have the ability to inocculate many more people than vaccines being received, which is ultimately the only factor holding them back
—-
QUEBEC AND BC PANDEMIC   
With over 80,000 active cases across Canada and the number of people succumbing to the disease rising past sixteen and a half thousand, many provinces are instituting harsher restrictions.
Quebecers will find themselves under a strict four-week curfew starting tomorrow night with only essential workers, people travelling to and from work and people walking their dogs allowed out of their homes from 8:00pm to 5:00am….fines for violations of up to $6,000.
British Columbia is extending its restrictions which were due to expire today until at least February 5th as the number of infections continues to trend upward.
All schools in southern Ontario will remain closed for in-person learning until January 25th as the province marks another record high in new  cases.
—-
ABORTION LAWSUIT  
The Canadian Civil Liberties Association has officially filed a lawsuit against the province over abortion access in New Brunswick. Brunswick news reports the Association held a news conference this morning announcing the lawsuit, which argues  current access that is restricted to hospitals in Bathurst in Moncton is inconsitutional. The Civil Liberties Association says it would prefer the provincial government simply amend its legislation, allowing for publicly funded abortions at private clinics elsewhere in the province, than proceed in court. The province has yet to respond.
—-
CONGRESS RIOT     
Washington was rocked by far-right rioters after a rally by President Donald Trump yesterday…and four people are dead. But it didn't stop the Congress from rejecting the first of Trumps challenges to his election defeat.
One woman who was shot by the U-S Capitol Police as the mob smashed through the doors of the capitol and invaded the building. Three others died of what are being called medical emergencies. Both police and the mob dispersed chemical agents during the riot. Two pipe bombs were discovered…one outside the Democratic National Committee and one outside the Republican.  Experts on far-right extremism say the storming of the U-S Capitol is a jarring but natural product of years of violence and hateful rhetoric stoked by disinformation and conspiracy theories by Donald Trump.