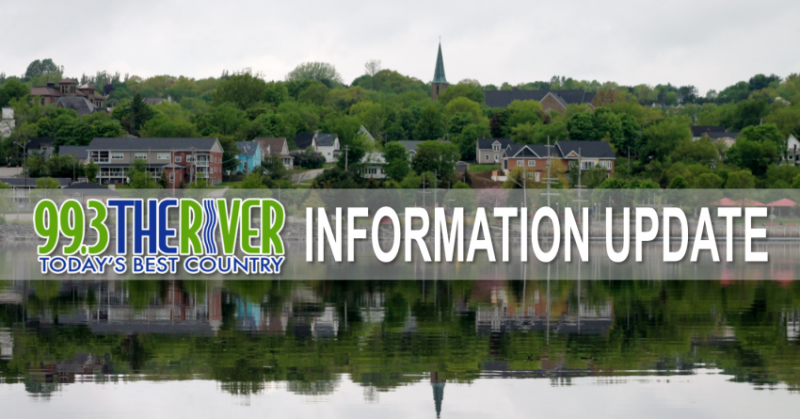 99.3 The River News—-Jan 6th, 2021
ALL STORIES FROM MBS NEWSROOM
—-
COVID EXPLOSION                                                            –
All of New Brunswick is being moved back into the orange phase of recovery after reporting a record 27 news cases of Covid-19 yesterday.
There are now 80 active cases in the province. Dr .Russel says many of the cases are connected clusters that have begun to emerge from holiday gatherings or from people going to work with sypmtoms. Dr. Russel also says some people who have tested postive have been uncooperative and untruthful with contact tracers.
A number of new cases have also been identifed at long term care facilities, including new cases at the Shannex Parkland Tucker Hall in Saint John and the People's Park Tower retirement residence in Moncton. An individual at that living facility was infected after attending a family holiday gathering.
—-
VACCINES UPDATE   
More people will be lining up this week to get a shot in the arm…and at more locations around the province.
The Health Department tells CBC vaccination clinics are being set up at 20 long-term care facilities today and tomorrow. So far, the province has received 5,850 doses of the Pfizer vaccine and administered half of them. An additional 2,925 doses are expected this week and half of those will be given to health-care workers at a clinic in Moncton later this week.
Dr. Jennifer Russel says hey are administering the shots as soon as they arrive, saying the only thing preventing speedier shots is arrival of the vaccines themselves.
—-
POLITICIANS STAY HOME 
Looks like MLAs stayed in New Brunswick over the holidays, except for one, avoiding a backlash being felt by dozens of politicians in other provinces who left the country for vacations down south.
The P-Cs say no Conservatives MLAs travelled outside the Atlantic region during the holidays, but Natural Resources Minister Mike Holland did visit his significant other in rural Nova Scotia. He is now home and self-isolating for 14 days.
While the premier and Chief public Health oifficer Dr. Jennifer Russell advised against any travel outside New Brunswick, the Premier's office says Holland won't be disciplined because "travel was not banned and he followed all of the required protocols."
The three other parties say none of their members left the province over the holidays.
—-
PAYCENTER BACKLOG   
It's been over two years and about half of the federal civil service is still having problems because of the payroll system, according to the Leader.
The Public Service Pay Centre in Miramichi did point out a small decline in its transaction backlog in its latest online update. The numbers are continually fluctuating, but about half of federal civil servants are still having pay issues as are employees in departments and agencies not handled by the Miramichi centre.
—-
BUS CUTS     
Maritime Bus says it's cancelling some routes in northern New Brunswick because of a drop in travel demand due to the COVID-19 pandemic.
Company president Mike Cassidy says he made the decision after learning the province had rejected a request for a subsidy to help his struggling business.
Service is being scrapped between Campbellton and Moncton and between Fredericton and Edmundston, and is being modified from Fredericton to Saint John as well as to Moncton.
New Brunswick Green Leader David Coon is calling on Premier Blaine Higgs to negotiate an agreement with Maritime Bus to maintain service.
—-
    COP ASSAULTED  
A 24-year-old man is facing three counts of assaulting a police officer with a weapon following an incident at a New Brunswick First Nation.
The R-C-M-P says a driver reported to be impaired refused to exit a vehicle on the Tobique First Nation on December 31st.
They say the vehicle collided with a parked police cruiser before fleeing the scene.
Police say Tyson Sappier was arrested the next day and appeared in court in Woodstock yesterday on nine charges that also include resisting arrest and dangerous operation of a motor vehicle.
—-
CUBE   
The Rubik's Cube may have been invented by a Hungarian, but it can now call Canada its home.
Canadian toymaker Spin Master has completed a 50-million-dollar U-S acquisition of the legendary 3-D puzzle.
Hungarian puzzle enthusiast Erno Rubik invented the toy in 1974.
It became a commercial success after it launched globally in 1980.
—-