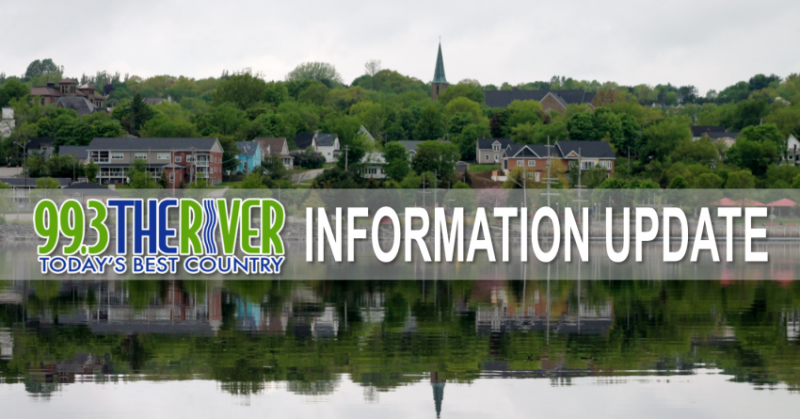 99.3 The River News – Jan. 20, 2021
ALL STORIES FROM MBS NEWSROOM
Orange versus yellow
Some Miramichi-area MLAs are hoping this region will be moved back to the
yellow phase. There hasn't been a confirmed positive case in zone 7 since
Boxing Day…the only region in the province with no active cases. Our orange
phase restrictions are due to expire today.
Miramichi MLA Michelle Conroy tells Brunswick News she would like to see
restrictions eased, for instance, to increase household bubbles from 1 to 2.
Kent North's Kevin Arseneau also would like to see this region moved back to
the yellow phase. Miramichi Bay-Neguac MLA Lisa Harris says she'll defer to
Dr. Russel's expertise but she admits a lot of people are asking why Zone 7
hasn't gone back to yellow and she can't blame them…but she went on to say
that's the hard part of leadership…you can't always tell people what they
want to hear.
—-
BLOOD DRIVE
Miramichi residents are being asked to give the gift of life.
The Miramichi Area Community Blood Donation Event is being held again today
at the Newcastle Lions Club between noon and 3:30pm and then again from
5:30pm to 7:30pm.
While the pandemic has created an urgent need for donors, it also means that
appointments are required. To book a time to visit the Newcastle Lions club
to donate you can visit blood-dot-ca or book an appointment by downloading
the Give-Blood app.
—-
COVID RED ALERT
Restrictions in the Moncton, Saint John and Fredericton regions are much
stricter this morning. The province confirmed a 13th virus-related death…a
resident at the Parkland Saint John long term care facility….and there were
31 new cases yesterday.
Chief Medical Officer, Dr. Jennifer Russel, announced the province's three
largest cities have been moved to the red phase of restrictions….
Dr. Russel says the move is needed to keep the spread of the virus from
getting out of control as it has in other jurisdictions. The red alert level
means many businesses have to close, while limiting recreational activities
and banning in-person dining at restaurants. Schools will remain open for now.
Premier Blaine Higgs has also warned that even tougher restrictions could be
coming if numbers continue to rise over the next few days….calling it a
"lockdown"…but he wasn't specific on what that would entail…but probably
would include closing schools as they did in March when the pandemic hit.
—-
RULE BREAKERS
Data on fines given for covid-19 rule breakers has come out.
According to the tribune, since December 1st the province has averaged 6
tickets per week, that's around 3 dozen fines all for $292.50.
The department of Justice and Public Safety says tickets related to
violations of the mandatory order were issued by all enforcement agencies.
Its warned that increased enforcement and harsher fines could be coming.
—-
AFFORDABLE HOUSING
Housing advocates in the province are hoping their pitches will bring federal
cash for affordable housing
The Canada Mortgage and Housing Corporation announced a $1B investment into
communities across the country for more affordable housing, but according to
the provincial reporter they're not saying how many they've received from New
Brunswick.
Miramichi proposed a $3.3M 18 single-bedroom apartments on Old King George
Highway.
Moncton is seeking $6M to turn existing buildings into housing to lift about
125 people out of homelessness.
Fredericton and Saint John didn't mention a dollar amount for their pitches.
—-
MARITIME BUS
Maritime senators are asking Ottawa for financial support for Maritime Bus
which has lost a lot of passengers due to the pandemic.
21 senators have signed a letter to the federal Transport Minister, saying
the service is essential to health-care, because it transports blood products
and patients. Maritime Bus is not eligible for federal supports because it's a
private company. But the senators noted that Ottawa gave funding to Greyhound
when it took away routes in Western Canada.
The company has already asked the provincial governments for support, and it
looks like New Brunswick might hold out.
—-
National vaccine delay
The number of active cases across Canada continues to drop to just over
71,000 after about 4,700 new cases were announced yesterday. There were also
146 more deaths.
Federal Procurement Minister Anita Anand says Ottawa was aware there would be
challenges with supply. But added it was very disappointing when Pfizer said
it would be delaying vaccine shipments to Canada as a result of work to ramp
up production at its plant in Belgium. Anand says Pfizer is contractually
obligated to ship four-million doses to Canada by the end of March.
—-
Inauguration day
It's Inauguration Day in Washington, which looks like an armed fortress. Joe
Biden and Kamala Harris will be sworn-in early this afternoon.
Many Canadians are looking forward to a return to a more boring political
climate south of the border.
The pandemic and security concerns following the attack on Capitol Hill has
forced Biden's inauguration to go virtual…and it will be carried on most
American and Canadian TV networks.
While never mentioning Biden by name in the 20minute video, he prays for the
success of the new administration in keeping the U-S safe.
—-
SPORTS
Only two Canadian teams on the ice in the NHL last night…Winnipeg edged
Ottawa 4-3 in overtime.    Pittsburg beat Washington 5-4 in OT.