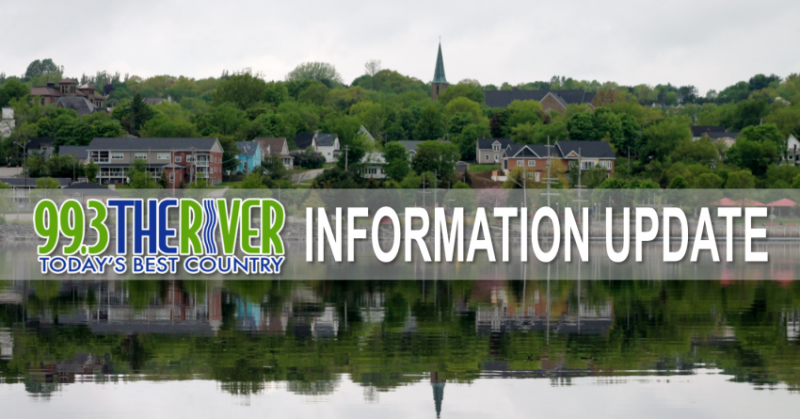 99.3 The River News—-Jan 12th, 2021
ALL STORIES FROM MBS NEWSROOM
—-
REC RE-OPENING 
The City of Miramcihi reopened its recreation facilities yesterday after closing them when the province was put into the orange phase of recovery last week.  The city announced the Lord Beaverbrook Arena, Golden Hawk Recreation Centre, Miramichi Civic Centre, Lindon Recreation Centre, and Miramichi Valley High School indoor pool are open but with tighter restrictions in place.
Team sports are limited to drills and practices, all users are being screened at the door, change rooms access had been restricted, and there are new lower capacity limits for most activities.
—-
MIRAMICHI POLICE CHASES   
Two Miramichi police chases involving the same car have resulted in charges against two men.
Officers tried to stop the car sunday for motor vehicle infractions but the driver fled. Deputy Police Chief Brian Cummings toldthe Leader the chase was quickly called off for safety reasons. Then the vehicle was spotted again on Route 8 andthe chase was on again. It ended when the car lost control on ice while trying to turn onto a secondary road at Natoaganeg First Nation.
Two men in the vehicle were arrested and charges of flight from police and dangerous driving are anticipated.
—-
TRAINING EXERCISE 
The North Shore  Regiment is advising that it will be conducting  Basic Winter Survival training in the local area between Janury 15th and the 17th.
The training exercises will be taking place on privately owned land around Sleeper Road in the Semiwagan Ridge Area. Soldiers will be using snowshoes and pulling toboggans while carrying rifles – but no live or blank ammunition will be used during the exercises. Snowmobiles will also be utilized at safety vehicles. The forces want ensure anyone who spots military vehicles or  soldiers in the area that it poses no risk or disturbance to the community.
—-
ICE FISHING CATASTROPHE    
twin brothers were rescued from icy waters after an ice fishing incident in Lamèque bay
79-year-olds Gilbert and Robert Savoie were smelt fishing on Saturday when their ice shack sank through the ice
Their brother, a former fire fighter 75-year-old Fernand, realized what was happening before they did and rushed to help
Robert was stuck in the doorway with water was up to his neck, only with help were the men able to escape the sinking hut
CBC reports The Bathurst Fire Department issued a warning of unusually thin ice conditions earlier that day
the twins say they'll be back on the ice as soon as it's safe.
—-
COVID
There are now 204 active cases of COVID in New Brunswick…the highest number since the pandemic began…and they are spread out all around the province…except the Miramichi region which doesn't have any active right now.
Dr. Jennifer Russell announced 21 new cases yesterday, bringing the total since the pandemic began to over 800. More than 1,700 people in the province, including 85 healthcare workers, are in self-isolation.
Dr. Russel did have some good news, reporting no new infections have been detected at any of the four long term care homes where cases were discovered last week.
Education Minister Dominc Cardy confirmed there have been positive tests at five schools in the province, in the Campobellton/Dalhousie Region and Woodstock area.
—-
VACCINE ROLLOUT    
New Brunswicks health minister is retracting comments about an idea to receive vaccine doses faster in the province
Health Minister Dorothy Shephard tells CBC New Brunswick could vaccinate more people if there were more doses available, and to obtain those doses, supply could be diverted from slower provinces
Last week Premier Blaine Higgs said New Brunswick could vaccinate 45,000 people per week if it had enough supply.
New Brunswick has been fourth fastest among provinces in getting doses out
Ottawa didn't comment on the idea of diverting vaccines but says everyone in New Brunswick will be vaccinated by fall.
As of Monday, 7,700 New Brunswickers had received vaccine, including 1,862 who have had the required two doses.
—-
RADIO HOST SENTENCING     
the sentencing of a former fredericton radio host has been delayed yet again
Trevor Doyle pled guity in a Puerto Rican Court to one count of travel with intent to engage in illicit sexual conduct with a minor.
He has been held in Puerto Rico since his arrest in April 2019
Doyle has continuously asked for delays, the latest being his 6th, because Covid-19 restrictions keep him from attending in person,
according to CBC his hearing will now be scheduled for April 7.
Doyle worked at Capital FM, a radio station owned by Bell Media, but was removed as an employee after his arrest
—-
CERB REPAYMENTS   
Canadians will start recieving CRA documents telling how much in benefits they've recieved during the pandemic
the documents also remind the money is taxable and must be recorded on tax returns
Minister of Employment, Workforce Development and Disability Inclusion Carla Qualtrough tells CBC the federal government is considering making repayments smaller and payable over a longer period of time to help those who find repaying difficult but theres no plans for debt forgiveness CRA sent 441,000 letters to Canadians who may have to repay CERB benefits
—-
TRUMP IMPEACHMENT    
Donald Trump will face a second impeachment trial in the U-S Congress which was targeted by his fanatical supporters last week, at his urging.
Democratic House Speaker says an article of impeachment…incitement to insurrection will be debated….quickly passed and then sent to the senate for a trial. Pelosi says the person running the executive branch is a deranged, unhinged and dangerous president of the United States…and Americans need to be protected from him.
It's doubtfull Trump would actually be convicted by the senate before his term expires next week…but the new senate could continue proceedings after its sworn in to prevent him from ever holding any elected office again.