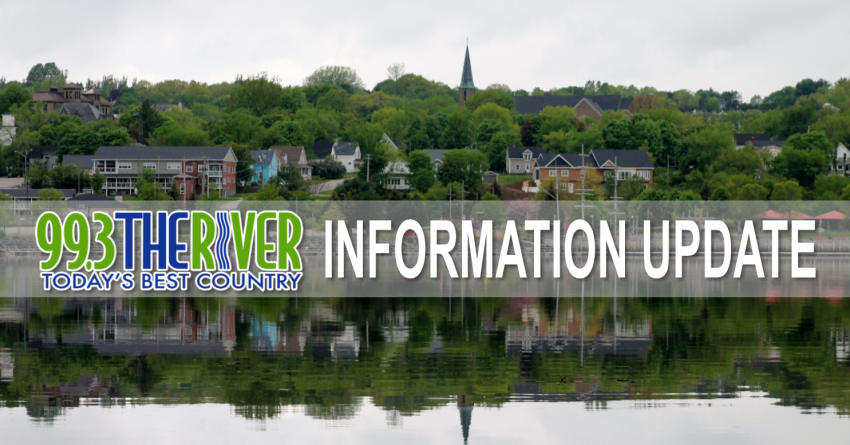 99.3 The River News – Jan. 11/2019
(FROM MBS NEWSROOM)
Earthquake
A magnitude 3.8 earthquake shook up parts of southern New Brunswick yesterday
morning.
The shaking started at 9:49 and was centred about 2 kilometres under the
Grand Bay-Westfield area…but it was felt over a wider area and into Saint
John where homes were shaking. Many people thought at first there had been
an explosion in their basements then realized what it was. Dishes rattled,
pictures tilted. The murder trial of Dennis Oland was even interupted for a
moment when the shaking startled participants.
No reports of any structural damage or injuries.
About 4 hours after the quake, there was a power outage affecting several
thousand people in the Uptown area but Saint John Energy says it had nothing
to do with the quake. It did cause evacuation of the courthouse and the trial
of Dennis Oland was adjourned until tuesday.
—-
Oland trial
Before the adjournment, former deputy police chief Glen McCloskey testified
about his involvement in the Oland murder investigation.
McCloskey admitted mistakes were made including his own movements within
Richard Oland's office. But he denied testimony from other officers that he
sat on a table or tried to incluence another officer' testimony…and he says
he was invited into the office by the head of the forensic unit. But having
said that, McCloskey admitted his judgment was 100% totally wrong and he
should have never been in the scene."
The trial is scheduled to resume Tuesday.
—-
Red Cross needs people
The Canadian Red Cross in New Brunswick is looking for volunteers.
It currently has about 200 emergency management volunteers right now….but
wants to bolster the ranks with 160 more.
Provincial Director Bill Lawlor told CBC the Red Cross has been called on
quite often this year what with the spring floods…but there have been
othger evacuations as well and the aftermath of the shooting in Frdericton.
He says things are happening more and more often that require action from the
Red Cross and they want to boost their capacity.
Volunteers handle a wide variety of tasks and are provided with all the
neccessary training.
—-
Francophonie funds reversal
The Higgs government now says it has not cut off money to Francophonie Games
Organizing Committee..
Government spokesperson Stephanie Bilodeau confirmed payments were set to
stop in December but she tells CBC that is just for the current fiscal year.
Wednesday she said in an email no further payments were scheduled. Yesterday
she said new requests for further funding will be considered as part of the
upcoming process for the next budget year, depending on the fate of the
Games. She said her reference Wednesday to "no further payments" being
"currently scheduled" was about the remainder of the 2018-19 fiscal year.
—-
Duffy-Senate suit
PEI Senator isn't done with the courts yet. He is appealing a judge's
decision last month blocking him from suing the Senate over his suspension
without pay more than five years ago. Duffy's lawyer, Lawrence Greenspon,
says it's a matter of respecting the Charter of Rights.
Justice Sally Gomery ruled the Senate's decision to suspend Duffy is
protected by parliamentary privilege…a centuries-old right designed to
protect legislators from having to answer to judges for doing their jobs.
Duffy was seeking 7.8 million in damages from the Senate, R-C-M-P and federal
government in the wake of the high-profile investigation of his expense
claims, which culminated in his acquittal on 31 criminal charges in 2016.
—-
BURNING SHIP UPDATE
That container ship that caught fire a week ago off the Nova Scotia coast is
now being slowly towed to port.
The fire aboard the Yantian Express is now described as largely contained and
under control. Five of 23 crew members have transferred back to the huge ship
from one of the big tugs fighting the fire. They now have a long tow of 1,400
kilometres into Halifax and a third tug is expected to arrive and help
Sunday.
—-
TRUDEAU TOWN HALL
Prime minister Justin Trudeau faced blunt questions at a town hall meeting at
the University of Regina.
He was asked about unproven allegations that he supports Islamic Sharia law,
that Quebec gets all its oil from Saudi Arabia, and that Canada is being run
by New World Order globalists.
Trudeau was also challenged to explain why Canada is honouring a contract to
sell light armoured vehicles to Saudi Arabia.
Trudeau claimed that the feds are grappling with the details of a complex
contract, and will continue to speak up for human rights.
—-
*SPORTS
Checking sports,
The Leafs doubled the Devils 4 to 2.
The Blues beat the Habs 4 to 1.
It was the Sens over L.A. 4 to 1.
The Jets got past Minnesota 3 to 2.
The Oilers beat Florida 4 to 3.
Arizona topped the Canucks 4 to 3.