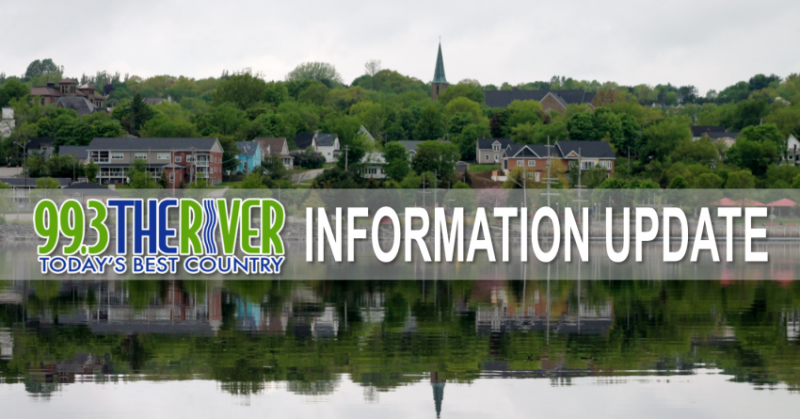 99.3 The River News–Feb 6th. 2020
ALL STORIES FROM MBS NEWSROOM
STORM
The snow will start this afternoon as the latest storm moves into the area.
There could be a lot of snow in the Miramichi area…30 cms or more because this will be a long-lasting storm with snow falling through tonight and tomorrow before tapering off Saturday morning. There'll also be wind blowing it around reducing visibilities for drivers.
—-
FIRE TRAINING CENTER FOR SALE?       
Miramichi is considering selling the former fire department training centre at Morrison Cove. They don't use it anymore, preferring instead to train at the NSCC forest training centre on O'Keefe Road.
City staff are looking at options, according to the Leader, including how much land to offer up along with the building near the Arbec Forest products Mill.
City manager Mike Noel tells the Leader they have had some interest expressed by the private sector and they are workingon establishing how much land they want to sell and for how much.
—-
NOT ECO LIBERALS   
The company behind a proposed wind farm near Caraquet wants to know how the Liberals can claim to be green when condemning their project and supporting Maritime Iron.
Naveco Power CEO Amit Virmani tells CBC its a total about face to Liberal Leader Kevin Vickers comment last year saying he's more green than the green party.
The proposed windfarm in Anse-Bleue has faced intense public criticism including objections from area Liberal MLA Isabelle Thériault.
Maritime Iron's proposed pig-iron facilty in Belledune along with its 200-jobs would become the largest green house gas producer in the province, but is supported by Vickers.
—-
CLIMATE FUND       
Money earned from the provincial carbon tax will be going into a climate change fund not back to New Brunswick's as proposed under the federal plan.
Minister of Environment Jeff Carr tells Global News the revenue will not be offered in the form of rebates instead going into a fund aimed at climate change projects.
Examples Carr gave of where the money could go include flood mitigation plans or efficiency programs.
The minister says its no good to tax people without giving it back to those that need it such as aiding seniors with making their houses less drafty.
—-
ELECTRIC CAR SHORT     
New Brunswick is going to fall far short of its goal of having 25-hundred electric vehicles on the road this year.
According to CBC… assistant deputy minister for energy Bill Breckenridge told an all-party committee yesterday there were only 429 registered in the province as of last year.
Breckenridge told the climate change and environmental stewardship committee that electric cars are proving too expensive for most drivers.
The group was told they could increase that number by installing more charging stations and encouraging Ottawa to enhance rebates on the cars.
—-
FRED WUHAN     
The flight back home to Canada has been delayed so a Frederiction family remains struck in Wuhan China amidst the cornavirus outbreak.
Mike Schellenberg tells CBC… he, along with his wife Summer and their one-year-old son Felix went to visit their inlaws about a month ago.
Schellenberg says they are staying about 45-kilometers outside of Wuhan and no one is showing an symptoms, but will be relieved to get back home.
The family will arrive as part of 211 Canadians aboard a chartered flight now expected to arrive tomorrow.
—-
 MOUNT ALLISON STRIKE 
A provincially-appointed mediator  met yesterday with the bargaining teams in an effort to end the faculty strike at Mount Allison University.
About 150 full-time and 60 part-time faculty and librarians walked off the job Monday after rejecting the university's latest offer. The faculty association says the university failed to address issues surrounding workload,  job security and part-time compensation.
It's the second strike by faculty at  Mt. A in the past six years.
—-
AUSTRALIA FIRES 
Sixteen forest rangers from New Brunswick are heading for Australia to help relieve crews battling historic bush fires.
The provincial government says they will be working in the states of New South Wales and Victoria and are expected to be in Australia for at least 30 days.
New Brunswick is a member of the Canadian Interagency Forest Fire Centre, which helps co-ordinate mutual aid among provinces as well as other countries.
Two firefighters from P-E-I are also leaving tomorrow to travel to Victoria for a 31-day deployment. (The Canadian Press)
—-
TRUMP ACQUITTED                      
The Republican-controlled Senate has acquitted President Donald Trump on two impeachment charges.
During the Senate trial, Republicans railed against what they said was a rushed process.
Democrats called Trump a threat to democracy. The three-week trial proceeded along partisan lines.
Only one senator — Republican Mitt Romney of Utah — broke with his party when it came time to vote.