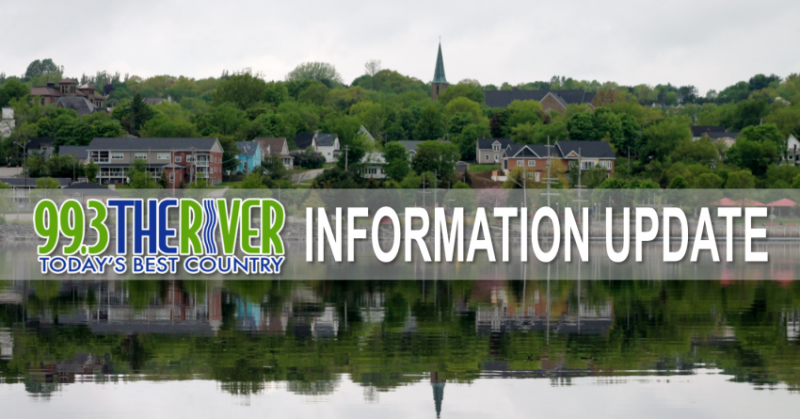 99.3 The River News—-Feb 5th, 2021
ALL STORIES FROM MBS NEWSROOM
—-
COVID 
The number of active cases of COVID-19 in the province continues to fall…down to 256, as just 16 new cases were reported yesterday.
Chief Medical Officer Dr. Jennifer Russell says five are in the Moncton region and nine in the Edmundston area with one each in the Bathurst and Fredericton zones.
Dr. Russell is urging people to keep Super Bowl gatherings small this weekend so they don't become super-spreader events. She says it's crucial that people follow public health guidelines after three cases of a more contagious variant were confirmed in the province this week.
—-
RESTRICTION CHANGES 
There has been changes to the definition of single household bubbles in the province.
The Higgs Government has tweeted that people living alone during a lockdown or in red level restrictions, can extend their bubble to caregivers, an immediate family member who needs support and one other person.
Dr. Jennifer Russell tells Brunswick News the change was made to recognize the emotional and mental health toll ca take on people living alone through the restrictions.
Loosened restrictions of the orange level now include a steady 10 person contact list per household…..and there may be more restrictions eased next week.
—-
SMALL BUSINESS GRANTS   
The province is offering grants to small businesses affected by lockdowns – but not all are eligable
The New Brunswick Small Business Recovery Grants allow those who qualify up to $5,000 to combat the impact lockdowns have had on revenues.
According to CBC, to qualify for the grant, businesses must have at least 2 full time employees, which has been a challenge for most – as some owners report a 100% loss of revenue during the lockdowns forcing them to layoff all their staff.
Some are saying the help is too little – too late or that there's too much focus on big corporations as opposed to small business owners.
—-
BUSINESS AND COVID
It has been nearly a year since businesses in New Brunswick were required to have COVID operational plans, but provincial officials say compliance officers are still finding some businesses with inadequate plans or no plans at all.
The vice-president of WorkSafe-N-B, Tim Petersen, says about 900 compliance orders and 80 stop-work orders have been issued since last March.
He says most of those stop-work orders, which target business practices that put people at significant risk,  have been issued just in the last month.
—-
LEAVING THE PCs   
The former Conservative Finance Minister says he's leaving the party until the Premier steps down.
Jeannot Volpé sent out a tweet yesterday asking the party president to remove his name from the membership list until there is a leadership review, according to CBC.
The Higgs's government says the motivation behind Volpé's tweet was that he "recently asked the Premier's Office to intervene in a human resources issue at NB Power, but was refused because it would have been inappropriate to do so.
Volpé says he quit the party because people in his former Madawaska-area riding still call him to complain about current PC policies or to ask him for government help, and he wanted to send a message that he's not part of that party anymore.
The last time members of a political party tried to remove their leader while he was premier was a failed attempt to oust Richard Hatfield in 1985.
—-
HOME OFFICE TAXES             
We're getting closer to tax time, as you get various tax forms in the mail.
The Trudeau Government is simplifying the forms when it comes to writing off home office expenses, given that so many people have been working from home during the pandemic.
Home office expense usually require additional forms and a lot of detailed calculations. This year Revenue Canada is simplifying things by allowing people to claim up to $400, depending on how many days they worked from home.
That could cost the government $260 millionin lost revenues.