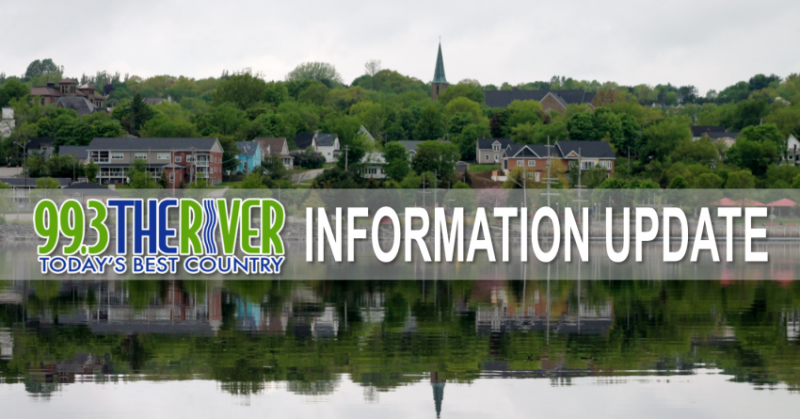 99.3 The River News—-Feb 26th, 2021
ALL STORIES FROM MBS NEWSROOM
—-
   SUSPICIOUS DEATH      
The RCMP are investigating the suspicious death of a woman in Pont-Landry, north of Tracadie, on Thursday. Police say someone passing by, in Pont-Landry, discovered the body of the 49-year-old deceased woman around 2pm yesterday afternoon. An autopsy is scheduled to take place today (Friday). RCMP are calling the death suspicious and say the Major Crime Unit is investigating.
—-
COVID 
Just one new case of Covid-19 was reported in New Brunswick on Thursday. Public Health says the lone new case involves an individual in their thirties in the Edmundston region who is a close contact of previously confirmed case. The number of active cases in New Brunswick has now fallen to 49 – with two people remaining in hospital – including one patient in intensive care. 
 —-
HOME INVASION       
RCMP are seeking the public's help with the investigation into a violent home invasion in Allardville, South east of Bathurst, earlier this week. Police say shortly after midnight on Monday morning at least two armed suspects wearing ski masks entered the home on Route 160, assaulted the lone occupant inside the home and fled. The victim was treated at the scene by paramedics. Anyone with information, or who noticed suspicious activity in the area – either late Sunday or early Monday – is asked to contact the Chaleur Region RCMP or Crime Stoppers.
—-
CANNABIS NB SALE        
The province has narrowed the potential sale of Cannabis New Brunswick down to one bidder – but says a final decision on selling the crown agency has yet to be made. According the Brunswick News, Deputy Finance and Treasury Board Minister Cheryl Hanson told a public accounts committee that negotiations are continuing with a single private sector bidder – narrowed from a list of bids received after the original request for proposals was issued in November of 2019.
However, since then Cannabis NB has begun posting a healthy profit and the public appetite for privatizing the agency has waned. Hanson says despite the ongoing negotiations with the selected bidder, which have been described as being in their final stages, a decision on its sale has not yet been made.
 —-
NURSING HOME
The New Brunswick government says it has issued a request for proposals for the development of a new 60-bed nursing home on the Acadian Peninsula. Social Development Minister Bruce Fitch says the development of the project is a priority for an area that needs the beds. There's no word on exactly where the home is to be built, but the province says construction could begin as early as this fall with an opening in 2023. Earlier this  week Fitch pledged the creation of 600 new beds over the next few years. New Brunswick currently has 70 licensed nursing homes with a total of four-thousand-925 beds.
—-
SHOOTING CHARGES 
A 24-year-old Moncton man has been charged with attempted murder after a Riverview High School teacher was shot last month. Janson Bryan Baker was charged yesterday in Moncton Provincial Court with 16 offences including armed robbery and assault with a weapon. The charges stem from a shooting incident that sent a 35-year-old man to hospital with serious injuries. Baker was arrested in Amherst, Nova Scotia following a manhunt that lasted nearly 19 hours.
—-
DEFENSE STAFF         
The Trudeau government is keeping mum on why the newly-minted chief of defence staff is being investigated for misconduct. Admiral Art McDonald has voluntarily stepped aside for now. Deputy Prime Minister Chrystia Freeland acknowledged the investigation in the House of Commons on Thursday, but refused to reveal any further details about allegations against MacDonald. She would only say the government takes misconduct allegations seriously. MacDonald only took over as  Defense Chief from General Johnathon Vance back  in January – Vance also under investigation for alleged inappropriate sexual behaviour with a subordinate.
 —-
GAGA DOGS       
Police in Los Angeles say Lady Gaga's dog walker is expected to survive after being shot multiple times when attackers stole the pop star's pets. Two of the singer's French bulldogs were stolen in Hollywood during an armed robbery late Wednesday while they were being walked. A third dog ran away. Police are seeking two suspects. Lady Gaga is currently in Rome filming a movie but has already offered a half-a-million-dollar reward for the return of her dogs