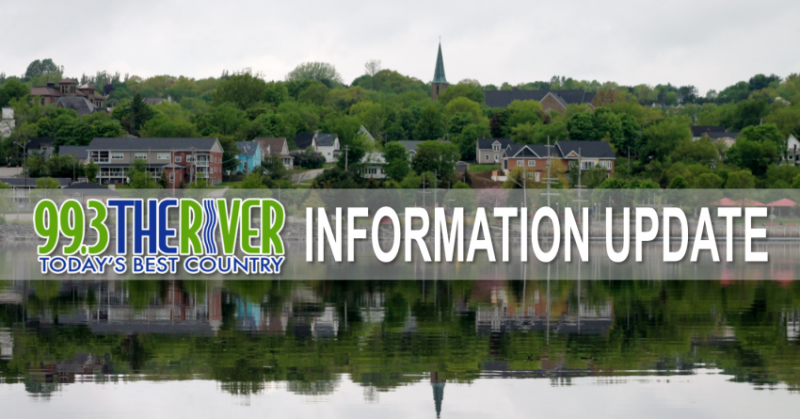 99.3 The River News—-Feb 25th, 2021
ALL STORIES FROM MBS NEWSROOM
—-COVID
Two new cases of Covid-19 were reported in New Brunswick on Wednesday. Public Health says one is in the Moncton region, the other is in the Edmundston Health zone. The two cases continue a trend of low case numbers over the past week – including the province's first day without a new case in over two months on Tuesday.
With recoveries the number of active cases has fallen to 64, with two people currently hospitalized – including one patient in intensive care.
 —-NURSING BEDS       
New Brunswick Social Development Minister Bruce Fitch says 600 new nursing home beds will be opened in the province over the next five years. Fitch made the comment after the provincial auditor general warned of a looming crisis if the province doesn't address a shortage of long-term care spaces. He says a new streamlined procedure to request proposals for new nursing homes should speed -up development of additional beds. However – The Coalition for Seniors and Nursing Home Residents Rights says the province should concentrate on helping seniors remain in their own homes instead of putting them in long-term care.
 —-HIGGS 
Premier Blaine Higgs is standing against both his own government and opposition MLA's for their support of the Auditor General.  Kim Adair-MacPherson was highly critical this week of Vestcor refusing to comply with her office and called on MLA's to support her authority to audit the body. Vestcor is the arms-length agency that manages the province's public sector pension fund, boasting assets of roughly 18-billion-dollars. MLA's of all parties were quick to join the AG's side, voting unanimously on Wednesday to call Vestcor to appear before legislators and explain itself. However, Blaine Higgs issued his own statement saying his government would not be introducing any legislation that would explicitly make Vestcor accountable to the Auditor General's authority.
 —-LEPREAU OUTAGE  
The opposition Liberals in New Brunswick are raising concerns about the current outage at the Point Lepreau nuclear generating station. Energy critic Rene Legacy says a mechanical issue forced the shut down more than a month ago and there have been no updates on the situation. He's asking government to check on the situation and report to the public.  Legacy says he's concerned what impact the outage could have on ratepayers with NB power previously saying it costs them millions every week the Lepreau is off-line. The Nuclear generating station underwent a 2.4-billion-dollar refurbishment in 2012 and the utility has spent roughly 500-million on maintenance and other issues at Point Lepreau since then.
 —-NEW US BRIDGE       
Officials in Maine are opening bids today from three companies looking to secure the contract to build an international bridge linking the state to Edmundston, New Brunswick. Maine's Department of Transportation says the contract for the bridge will be awarded within the next four to six weeks and construction should start in April. The bridge is expected to cost 108-million-dollars. The project will replace an existing bridge that was built in 1921 and due its poor condition had been restricted to vehicles weighing less than five tons.
 —-MISSING COUNCILLOR
A Saint John municipal councilor who was tossed this week for missing to many meetings has turned up in Mexico.  Council removed Sean Casey from council and declared his seat vacant after he missed a fourth meeting without explanation or permission. It turns out Casey has been travelling in Mexico and central America. Casey tells CBC he left the city after the social isolation of the pandemic, along with his autism, worsened his depression – and says he decided to travel for mental health reasons. Casey also says he accepts his removal from council and says he does not intend to run again in the Spring.