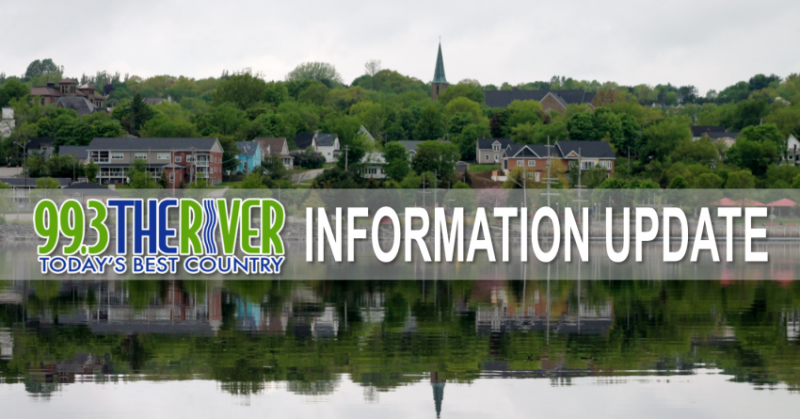 99.3 The River News—-Feb 23rd, 2021
ALL STORIES FROM MBS NEWSROOM
—-
COVID DEATH
Another New Brunswicker has lost their battle against COVID.
Public Health confirmed a person in their 80s at Manoir Belle Vue in Edmundston has passed away from complications due to COVID. That's the  26th death overall in the province.
There was just one new case to report in the province yesterday…a person in their 40s in the Edmundston region. There are two people in hospital with one in intensive care.
With recoveries the number of active cases is now down to 84….
1 in Miramichi's zone 7 and 1 in the Bathurst-Acadian Peninsula zone. The most – 72 – are in the Edmundston region.
The province also reported a sixth case of the U-K variant has now been confirmedin theprovince but didn't say where.
Across Canada…just under 2,900 new cases were confirmed yesterday with the active cases just over 31,000. Another 49 deaths were also reported.
—-
FIRST NATIONS VACCINES       
Two First Nations in this region will be hosting vaccination clinics next month for everyone over 16…both current and former residents.
Residents of Natoaganeg First Nation and Metepenagiag Mi?kmaq Nation are eligible for two doses of the Pfizer vaccine.
Natoaganeg's Chief George Ginnish tells the Leader they're suggesting everyone get this to help with herd immunity". They're working with the community health centre Horizon Health Network and Indigenous Services Canada. He says community members must sign a consent form which will help determine how many doses are needed.
There has been some concern in the community, given Canada's history with First Nations peoples, but he's encouraging his people to read the registration package they are distributing to help them make an informed decision.
—-
ELECTRIC CARS
New Brunswick is falling short of its targets for getting more electric vehicles on the roads.
The government told CBC there are currently only 646 fully-electric vehicles registered in the province, despite the government setting a goal in its 2016 Climate Action Plan to have 2,500 electric vehicles on the roads by 2020.
That same plan called for 20,000 on New Brunswick roads by 2030. New Brunswick is ahead of other provinces in development of a province-wide electric charging grid for vehicles, but unlike others has yet to introduce a provincial incentive program for the purchase of E-Vs.
Ottawa does have a federal incentive program which can offer a rebate of up to $5,000 for some electric vehicles, but many critics say the makes and models covered by that program is too limited.
—-
WHALE SPEED LIMIT      
A new report by Oceana Canada says keeping voluntary speed restrictions for vessels passing through the Cabot Strait poses an ongoing risk to endangered North Atlantic right whales.
Kim Elmslie, campaign director for Oceana Canada, says data indicates voluntary slowdowns aren't working and Ottawa should put in place a mandatory season-long slowdown in the Cabot Strait. Oceana says an analysis from last spring and fall indicates two-thirds of 1,565 ship transits it studied ignored the voluntary 10-knot slowdown measure.
Last week, Ottawa announced the voluntary limit will remain in place from April 28th to June 29th and again from September 29th to November 15th.
—-
VACCINES
Two vaccine developers blame a lack of federal funding early in the pandemic for keeping homegrown vaccines from moving as quickly as the ones from international drug makers. The minister of procurement is on the defensive.
Anita Anand says Canada's vaccination program is now taking on considerable speed and is on track.
The C-E-O of Entos Pharmaceuticals in Alberta told a Commons committee that other countries gave hundreds of millions of dollars to their vaccine developers early in the pandemic. John Lewis says Canada left the financial risk up to domestic producers.