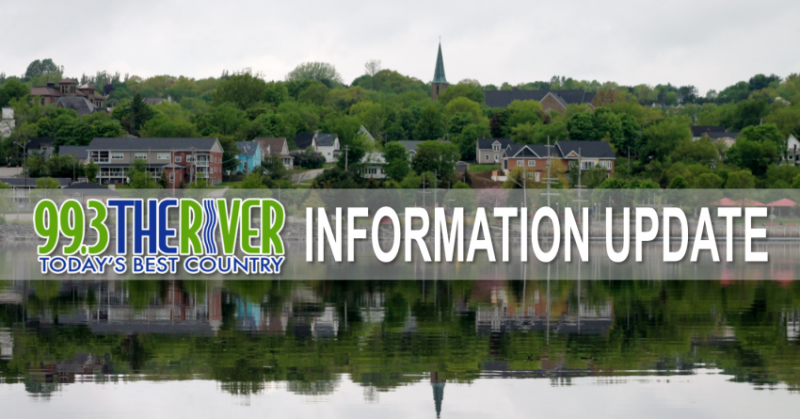 99.3 The River News—-Feb 17th, 2021
ALL STORIES FROM MBS NEWSROOM
—-
—-
COVID DEATH
Another death has been attributed to COVID-19…a person in their 80s  in the Edmundston region….the second in as many days in a long-term care home there….and the 24th overall in the province.
But Dr. Jennifer Russell says there were just three new cases to report yesterday out of almost 800 tests…leaving us with 130 active cases and six people in hospital…two in intensive care. We have also surpassed the 1,400 mark for total cases since the pandemic began/.
Dr. Russell repeated her calls for people not to travel during March break….stay home…because of the threat the variants pose. She poionted to Newfoundland and Labrador as an example of just how quickly things can get out of control.
—-
NFLD CASES
The outbreak of variant cases continues in Newfoundland with 32 more new and presumptive cases….and almost 300 cases now considered active.
Across Canada, almost 2,400 new cases were reported yesterday bringing the active case count to 35 and a half thousand with 54 more deaths.
While umbers are decreasing nationally, Canada's chief public health officer has growing concerns about the new, more contagious strains of the virus. Dr.
Theresa Tam says the appearance of the variants started with just a few travel-related infections, but now there are cases in all 10 provinces.
—-
OFFICIAL LANGUAGES ACT    
The province's Official Languages Commissioner says a private review of the Language law should not be taking place.
Shirley MacLean says that in order to have a full discussion of the Official Languages Act, the hearings need to be held in public, and without other issues involved. Premier Blaine Higgs insists the consultations will happen behind closed doors.
MacLean tells CBC she has no say on the process…and her input will be limited to making submissions to the commissioners.
In her annual report in December, MacLean made a number of recommendations, including amending the Act to clarify the obligations of police departments to comply; give public servants the right to work in the official language of their choice; and to give her office the power to enforce agreements with government institutions that violate the act regularly.
—-
FINANCE UPDATE 
The Higgs Government has released its third-quarter financial results showing a projected deficit of $12.7 million. That's compared to a budgeted surplus of $92.4 million at the start of the pandemic.
Finance Minister Ernie Steeves says the focus of the past year has been on restoring the economy and ensuring the health and safety of New Brunswickers.
His next budget is set to be tabled March 16th.
—-
UNION VS HIGGS    
Relations between health-care workers and the Higgs government have worsened after a conciliation meeting yesterday.
Norma Robinson of CUPE say Higgs' representatives never returned after lunch to continue the meeting. Now Robinson tells the Daily Gleaner after the disrepect towards her their union they're walking away from the talks….and they're not accepting the 3% wage hikes over 4 years offdered by the government. Robinson says the workers are fatigued from the pandemic, working short-staffed and not getting the recognition they deserve.
She wouldn't comment on what the union is demanding…but hasn't ruled out a strike to get what they want.
—-
URBAN VS RURAL  
Urban areas keep growing as rural areas continue to shrink in the province.
Moncton, Saint John and Fredericton, now have 47$ of the province's population. That's because many people are moving to cities from the country.
Also 80% of immigrants coming to the province choose urban living.
The Atlantic Provinces Economic Council projects that by 2030 over half of the region's population will live in one of the six major cities in the Maritimes. Senior Analyst Fred Bergman tells CBC the shift from rural to urban living can take away much needed resources from rural areas. It's estimated rural Atlantic Canada will need to attract at least 4,500 newcomers a year to support economic growth.
—-NO HOLDING HANDS IN HOSPITAL  
A woman was kicked out of a hospital for holding her husband's hand
Kendyl Terris has been in hospital since July after his Alzheimers became too much for a special care home and he can't communicate vocally. His wife Lonny says they communicate though physical interaction. But due to changing
COVID-19 restrictions the couple must now maintain social distancing of 6 feet, so after being caught holding her husband's hand, Lonny was escorted out of the facility by security, according to CBC.
Now while the Moncton region is in the Orange phase, the hospital doesn't allow visitors. Lonny is asking Horizon Health to consider exceptions for families who have loved ones "living in the hospital through no fault of their own" as they wait for nursing home beds and believes more compassion should be had for people like her husband.
—-
GUNS   
The Trudeau government has tabled a bill that will let municipalities ban handguns through bylaws restricting their possession, storage and transportation.
Prime Minister Justin Trudeau says the bill also provide for a buyback program for recently banned firearms that are considered assault-style weapons – although the finer details of what be offered to gunowners in exchange for those weapons hasn't been announced. The extensive list of newly  banned weapons was introduced following the mass shooting in Nova Scotia last April that left 22 people dead.
Today's announcement will be disappointing to many – gun enthusaists have voiced  displeasure with the Liberals restrictions while many anti-gun advocates had been hoping Trudeau would announced a national handgun ban.