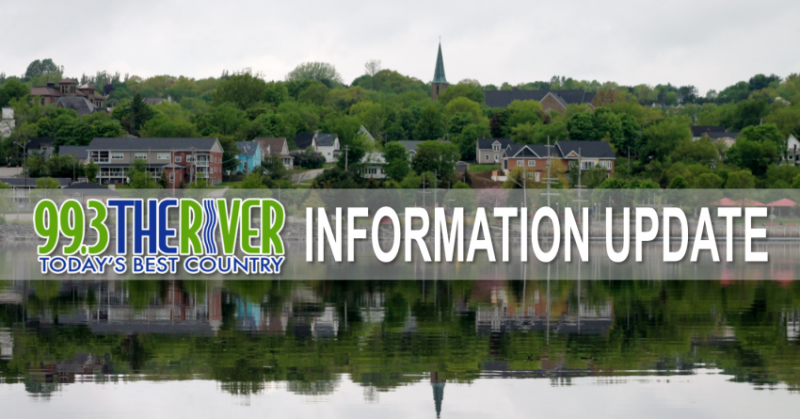 99.3 The River News—-Feb 10th, 2021
ALL STORIES FROM MBS NEWSROOM
—-
COVID 
Another death has been attributed to COVID-19 in New Brunswick.
The person was in their 80s and a resident of a long term care home in Edmundston. That makes for 21 New Brunswickers who have lost their lives to the virus.
15 new cases were reported in the province yesterday with the active case count at 183….mostly in the northwest.
Two of those cases were in the Moncton region which has 31 active cases.
Three of  those cases were in the Saint John region which now has 5 active cases.
Seven people are in hospitals with two in intensive care.
—-
VARIANTS PLANNING
The Higgs government will hold a briefing tomorrow on how it will handle the COVID variants which have begun showing up in the province. A fourth case of the UK variant was announced this week in the Moncton area. Saint John has two and the Miramichi one.
Public Health says all four individuals are self-isolating and officials are keeping a close eye on the situation because these variants, of course, spread much more easily that the original virus. Chief Medical Officer of Health Dr. Jennifer Russell has said the province is tightening isolation requirements for people comigin from outside Atlantic Canada in a bid to try to minimize that spread.
—-
RENT RELIEF   
The NB Coalition for Tenants Rights is asking Premier Blaine Higgs for relief for tenants in the form of 2% rent cap retroactive to last September until COVID vaccines are available to everyone and the province reaches the green phase of recovery.
The coalition also wants a moratorium on evictions and a rent bank fund for people struggling to pay the rent with the money coming from a growing war chest. That's an idea that has been set up in British Columbia
CBC reports that some tenants in the province have been nailed with rent hikes of 62%.
—-
LAND TRANSFER
Miramichi City Council has agreed to transfer two lots in Chatham to a non-profit group that wants to build affordable housing.
Habitat for Humanity of Moncton wants to put up an accessible duplex on Water Street near McIntosh. Executive Director Chantal Landry tells the Leader they hope this will just be the first of many such affordable projects for Miramichi. The city has agreed to transfer the lots for $1 plus tax.
Habitat agrees to pay transfer fees and legal costs and pay the property taxes.
—-
MAPLE FESTIVAL
Another top tourist attraction has cancelled because of the pandemic.
The annual spring maple sugar festival has been cancelled for the first time in 35 years. The First Taste of Spring event did go ahead last spring just before all the pandemic restrictions were imposed. Mary Baruth at Kings landing says they are looking at ways to move the event online.
—-
MOOSE DROWNING 
No one will be charged in connection with the drowning of a young bull moose last summer near Parlee Beach.
Pictures and reports of the animal being chased and harassed had angered many  onlookers and as well as wildlife officials at the Atlantic Wildlife Institute.
However, Department of Public Safety officials say they looked into the incident and have closed the file.
The moose appeared at the popular beach on the morning of June 22nd and drowned about 500 metres from shore later that afternoon. Soem witnesses reported some onlooker followed the struggling young moose, scaring it, and preventing it from finding a safe route ashore.
—-
PORN CHARGE
A shocker in the business community yesterday.
RCMP announced they had arrested two men in connection with chuild pornography charges…one of them Peter Alan Moorhouse, president and CEO of the Better Business Bureau of Atlantic Canada. He's charged with making child porn and making an agreement to committ a sexual offence against a child.
Facing the same charges as well as sexual interference is 35 year old Carlos Moraga. Both were arrested at their homes in Enfield,outside Halifax.
The BB has suspended him.