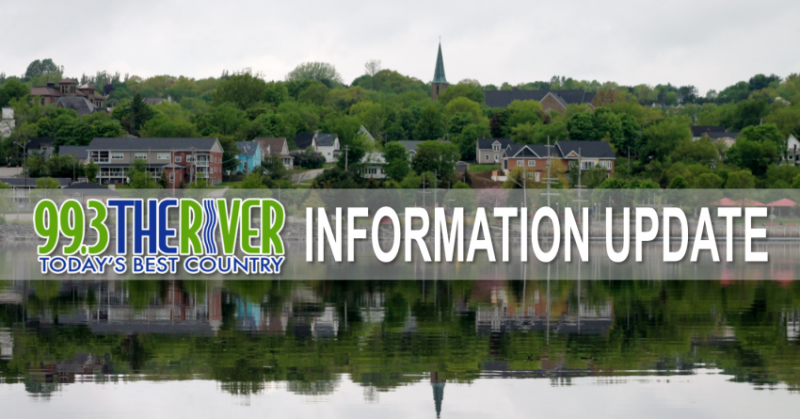 99.3 The River News – Dec. 6, 2019
(FROM MBS NEWSROOM)
$1 LAND
The City of Miramichi has agreed to sell a parcel of land in the Newcastle
Business Park for a dollar. The Leader reports Sunny Corner Enterprises had
believed they already owned the land behind their offices on Dalton Avenue.
They had been using it store equipment on for years. It was only learned that
the city actually owned it during work on a provincial program looking to
protect municipal wellfields. The city says the property had little value to
them and was only assessed at 300-dollars so they've agree to sell it to
Sunny Corner Enterprises for a buck.
—-
Parade of lights
Kids are getting excited as Santa is getting close with the Parade of Lights
set to go this evening in the Historic Chatham Business District.
A few things for mom and dad to think about before hand.
The parade will follow the usual route starting at 6:30 at JMH but it will
end now in the Atlantic Superstore lot on Johnson Avenue.
Street parking will be allowed in some areas but drivers are reminded that
floats need a lot of room to maneuver especially turning at intersections so
leave them lots of space. Water Street will be blocked off at Henderson at
4:00 pm and any cars still parked from Henderson to Duke after that will be
towed away. Parents who want to watch from the cars are advised by police to
use parking lots along the route.
—-
STOLEN TUBA
Miramichi Police have recovered a stolen Tuba.
It had belonged to well known entertainer, the late William Farrah, and was
stolen from his son Blaine's property over two weeks ago.
CBC reports Miramichi Police recovered the tuba while executing a search
warrant for an unrelated matter. It has now been returned to its rightful
owner.
—-
TAXES
Miramichi's municipal tax rate should remain the same for the third straight
year.
The Leader reports City Treasurer Darlene O'Shea presented councillors
yesterday with a tentative operating budget of just over $36 million, which
should keep the property tax rate at just under $1.74 per $100 of assessment
value.
O'Shea says spending will increase by just over a million dollars from this
year but revenues are also up by the same amount. The current tax rate is the
fourth highest in the province. Council will vote to officially approve the
budget next week.
—-
COP KILLER PAROLE
The man convicted of killing a New Brunswick highway patrol officer nearly 33
years ago has been granted permission to attend a meditation class outside
prison.
The Parole Board of Canada has refused to grant Anthony Romeo parole even
though he became eligible in 2012 following his conviction in the fatal
shooting of Constable Emmanuel Aucoin south of Fredericton in March 1987.
But it has agreed to allow the 56-year-old to take one four-hour meditation
class in Moncton if he's escorted by a corrections officer.
Romeo told the board that a meditation class he's been taking in prison has
been helpful
—-
FIRE PLATES
The New Brunswick government has eliminated the fees for licence plates for
volunteer firefighters, effective January 1st.
Public Safety Minister Carl Urquhart says eliminating the fees is a small way
to recognize the contributions volunteer firefighters make to their
communities.
To qualify for a firefighter plate, an individual must be on the list
supplied to the province by the New Brunswick Association of Fire Chiefs.
The association requires applicants to complete a training course and be a
member of a department for at least one year.
—-
IMPEACHMENT UPDATE
American House Speaker Nancy Pelosi has announced the House is moving forward
to draft articles of impeachment against President Donald Trump.
Trump, meanwhile, tweeted that if Democrats want to impeach him, he wants
them to — quote — "do it now, fast"' so he can get on to a Senate trial.
Pelosi says she's authorizing the drafting of articles of impeachment — her
words — "sadly but with confidence and humility."
At the heart of the impeachment probe is a July call with the president of
Ukraine, in which Trump pressed the leader to investigate Joe Biden as Trump
withheld aid to the country.
—-
Throne speech
The federal government's Throne Speech yesterday is tall on humility,
goodwill and promises of collaboration.
Making life more affordable for the middle class was one of the key themes.
Taxes on all but the wealthy will be cut as well as cellphone and wireless
costs.
The Liberals are also setting an ambitious target for reducing greenhouse gas
emissions, well beyond their mandate — net zero by 2050.
The Conservatives and NDP say they won't support it as it doesn't represent
their parties values but the Bloc Quebecois 32 M-Ps will ensure it passes
saying it has elements good for Quebec.
—-
Throne-Speech-opposition
Andrew Scheer is condemning the throne speech for failing to admit Trudeau's
responsibility for triggering what he calls a "national unity crisis" in
addition to misguided climate change and environmental policy.
The Conservative leader — who is facing an internal battle to hang on at the
helm — says he will propose an amendment which would essentially replace the
Liberal agenda with a Conservative one.
The Bloc Quebecois says its 32 M-Ps will support the speech, despite some
reservations because it contains elements that are good for Quebec.
—-
SPORTS
The Canadiens slump continues losing 3-2 to Colorado…their ninth loss in
the last ten games.  Bruins lost 4-3 in overtime to the Blackhawks.  Calgary
clipped Buffalo 4-3. The Stars edged the Jets 3-2 in overtime.
On the hardwood…the Rockets rocked the Raptors 119-109.