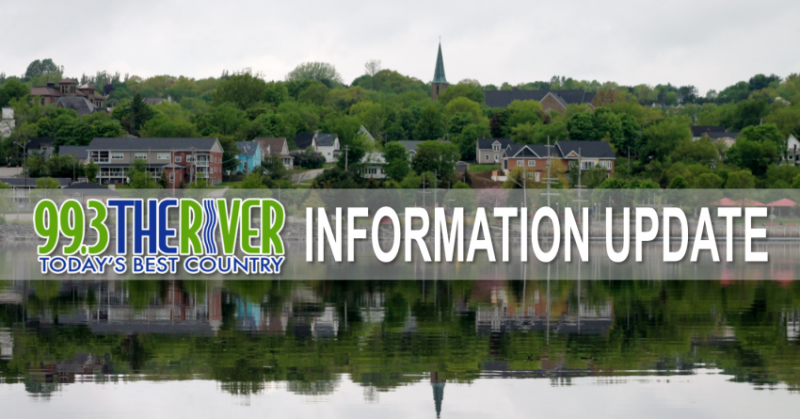 99.3 The River News – Dec. 4, 2019
(FROM MBS NEWSROOM)
Storm aftermath
The cleanup continues after the latest storm and things should slowly start
getting back to normal today.
Much of the city was shut down yesterday because of the snow and freezing
rain. Schools were closed, as was NBCC Miramichi. The courts, city hall,
provincial and federal government offices were closed at noon. Buses were
pulled off the road.
The plows have been working hard and things should start moving
again…slowly.
—-
Doctor Suspended
A Miramichi doctor has been suspended for having an improper relationship
with a former patient.
Dr. Alexandre Lubin, a general surgeon, has been suspended by the College of
Physicians and Surgeons for one year, according to CBC.
Dr. Lubin admitted to professional misconduct but did not expressly admit to
the fact there was sexual contact on two occasions.
—-
Home invasion sentence
A 31 year old man is going to prison for an additional three years for a home
invasion in Lagacéville home last January as well as previous domestic
assaults.
Lee Alexander Mitchell, of the Esgenoôpetitj First Nation, was given credit
for 495 spent in custody since his arrest and will have to spend another
three years behind bars.
Mitchell forced his way into a home seeking to recover money he believed he
was owed. One of the aggravating factors considered by the judge was
Mitchell's 29 previous convictions…but a mitigating factor was that
Mitchell turned violent only after he was shot in the leg during the home
invasion.
—-
Cop stuff
Miramichi police had an interesting case of someone trying to buy goods with
fraudulent bills.
An officer responded to a Water Street business where a 13 year old boy had
tried to make a purchase with what was described as "play money". The youth
was advised of his illegal actions and then his parents were advised.
—-
AG on GROUP HOMES GG/WIRE
New Brunswick's auditor general says the province is failing vulnerable
children in group homes.
Kim MacPherson says in a report released today that she is troubled by the
increase in children aged five and under living in the facilities.
She says poor planning, ineffective standards and weak monitoring by the
Department of Social Development are placing children at risk.
MacPherson says the failure to adequately manage the placement and care of
children can result in suicide attempts, addictions, long-term mental health
challenges and homelessness.
—-
AG on UNIVERSITIES
New Brunswick Auditor General Kim MacPherson says the province isn't keeping
universities accountable for the funding they are given.
MacPherson says in a report released today that the province's four publicly
funded universities and the Maritime College of Forest Technology have
received over two-billion dollars in operating grants over the last decade.
But her audit finds the province's Department of Post-Secondary Education,
Training and Labour has not been monitoring the annual operating grant of
about 210-million dollars.
MacPherson says even when there was some monitoring, no corrective action was
taken when performance targets were not met.
—-
NB AUD GENERAL
The province's auditor general says the government's second consecutive
budget surplus is a good sign in terms of the province's fiscal health.
However, Kim MacPherson says the government needs to set targets for debt
reduction.
The provincial government recorded a surplus of $73 million for the last
fiscal year…but net debt still increased by $33 million to hit a record
high of $14 billion.
—-
IMPEACHMENT REPORT
The House Judiciary Committee is moving swiftly on more impeachment hearings
into whether President Donald Trump misused the power of his office for
personal political gain and then obstructed Congress' investigation.
The Committee is responsible for drafting articles of impeachment and will
host its first hearing today.
The hearing follows yesterday's release of a 300-page report by Democrats on
the House Intelligence Committee that found "serious misconduct" by the
president in relation to demands he allegedly put on Ukraine. (2)
—-
NATO SPENDING
In their first face-to-face meeting since October's federal election, Prime
Minister Justin Trudeau and U-S President Donald Trump spoke about Canada's
military spending on the sidelines of the NATO summit in Britain.
In 2014, all 29 NATO members agreed to stop cutting their defence budgets and
work toward investing two per cent of their gross domestic products on their
militaries within the next decade.
Canada spends just over 1.3-percent.
But Trump appeared to give Trudeau a pass, describing Canada as "just
slightly delinquent," while blasting other countries for spending one per
cent or less on their militaries.
—-
First-Nations suicides
Indigenous Services Minister Marc Miller says Ottawa will work with First
Nations to create a national suicide-prevention strategy for young people.
Speaking to a gathering of First Nations chiefs in Ottawa, Miller had few
details on what this strategy would look like, but did say officials will
collaborate with First Nations communities on solutions they propose.
Assembly of First Nations National Chief Perry Bellegarde had called on
Ottawa to step in, as a First Nation in northern Saskatchewan deals with a
suicide crisis.
—-
SPORTS
NHL action saw the Canadiens snap an eight game winless streak with a 4-2 win
over the Islanders. The Flyers shocked the Leafs 6-1 scoring five times in
the third period. The Canucks beat the Senators 5-2. The Jets handled
Dallas 5-1.
The Raptors lost their first game this season at home in Toronto 121-110 to
the Heat.