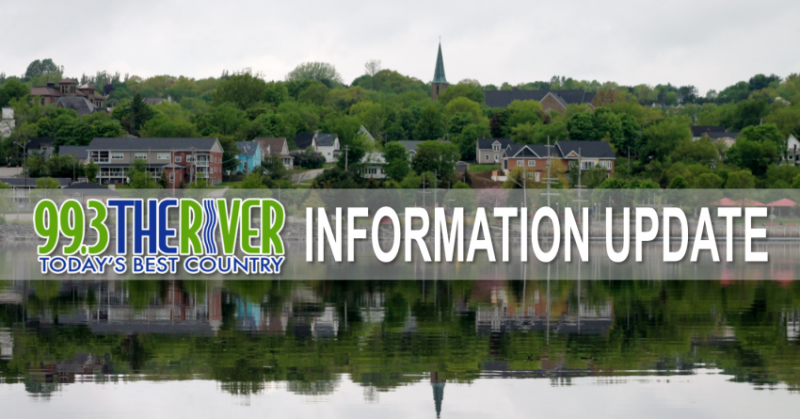 99.3 The River News – Dec. 31, 2019
(FROM MBS NEWSROOM)
PRISON DRUGS
Staff members at the Atlantic Institution in Renous have seized more than
$120,000 worth of illegal drugs.
Correctional Service Canada says staff at the maximum security prison
confiscated over 1,100 grams of hash and 28 grams of ecstasy on December
17th.
RCMP have been notified and the investigation is on-going.
—-
HIGGS ON NUCLEAR
The premier says the development of small nuclear reactors may be the answer
to the province's economic and clean-energy needs. Blaine Higgs tells The
Canadian Press the small modular reactors will be able to provide large
amounts of energy with zero emissions.
New Brunswick signed a memorandum of understanding earlier this month with
Ontario and Saskatchewan to collaborate on development of the small reactors.
The province is also providing $5-million each to a pair of Saint John-based
start ups…ARC Nuclear Canada Inc. and Moltex Energy Canada, to work on
developing small reactor technology.
Higgs says he also still wants to push for more exploration of natural gas in
the province.
—-
STORM UPDATE
New Year's celebrations will be muted by the approaching storm.
The system is moving in from New England and will last into tomorrow. Much of
the central and northern parts of the province could see as much as 30 cm of
snow. Southern areas will likely get 10-15cm of snow then ice pellets
followed by rain. There will also be gusty winds blowing it all around
reducing visibilities on the roads. It could also be a dark New Year's Eve
with power outages possible.
—-
SUSPICIOUS DEATHS
Kennebecasis Police are investigating a sudden death at an apartment building
in Rothesay.
There was a heavy police presence, along with ambulances, at the building at
11 Sierre Avenue, near Hampton Road, early yesterday morning. Police have yet
to release any more details just that it was a sudden death. Investigators
were on the scene throughout the day.
—-
BORDER CHARGES
Five people have been arrested for illegally crossing the New
Brunswick-United States border into Main south of Grand Falls.
Jason Schneider, the deputy patrol chief for United States Border Control
tells CBC the five men crossed on December 23rd in Limestone Maine… an area
known for illegal crossings.
Three men from Mexico have been charged with illegal entry, another man from
Mexico with illegal re-entry, and the driver… a US citizen… is facing
charges of alien smuggling.
Schneider says there has been a significant increase in illegal crossings
between New Brunswick and Maine since 2018.
—-
ANOTHER MINTO FIRE and testing update
Just as air quality warnings in Minto were lifted from the large tire fire at
TRACC recycling another fire in the community has destroyed four buildings.
According to CBC, the fire ripped through the buildings used to store
vehicles and boats Sunday afternoon in Ripples just outside of Minto.
Although the buildings were gutted… a residence and two other out buildings
were saved. There were no injuries and the cause of the fire is under
investigation.
Meanwhile, an air-quality advisory because of the tire fire was lifted
yesterday evening…but the advisory not to drink water in the area around
the fire remains in place while more testing is done.
—-
Aussie fires
Wildfires burning across Australia's two most-populous states have trapped
residents of a seaside town in apocalyptic conditions.
About 4,000 people fled to the waterfront of the southeastern town of
Mallacoota. Winds pushed an emergency-level wildfire toward their homes many
of which are feared destroyed. The town was shrouded in darkness from the
smoke before turning a deep shade of bright red.
The state's leader says there are plans to evacuate the trapped people by
sea. Meanwhile, more Canadian wildfire specialists are on their way to
Australia.
(20)
—-
TORY LEADER HOPEFUL
A former Conservative leadership candidate is testing the waters of another
run.
Erin O'Toole held a five-hour meeting with more than a dozen strategists and
organizers to hear their ideas about how to win the upcoming contest to
replace Andrew Scheer. O'Toole placed third in the 2017 leadership race,
which ultimately saw the top job go to Scheer.
—-
SPORTS
In the only game in the NHL last night…Penguins beat the Senators 5-2.
Team Canada can lock up first place in their group at the World Juniors
against the host Czech Republic this afternoon, after beating Germany 4-1
yesterday to go to two and one.