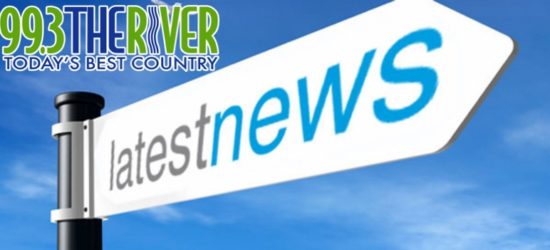 99.3 THE RIVER NEWS – DEC. 3, 2018
BREAK IN
Miramichi Police say two men are facing charges following a break in at
business in the industrial park on Sunday night. Police discovered the break
in shortly after 11pm and followed fresh foot prints in the snow. A
30-year-old man and a 36-year-old man were taken into custody for break and
enter and possession of stolen goods.
—-
CHALEUR MATERNITY WARD
The Chaleur Regional Hospital will get its maternity services back on January
7th.
Due to a shortage of nurses, the services have not been offered since late
October, forcing pregnant women in the Bathurst area to go to Miramichi or
Campbellton.
Gilles Lanteigne, the president and CEO of the Vitalité Health Network, said
the network has hired three new nurses.
—-
SCHOOL CLOSED
The La polyvalente Louis-Mailloux school in Caraquet will remain closed until
a fire damaged transformer is replaced.
The blaze erupted this past Wedesday, no one was hurt.
It's expected students will return to school on Wednesday, parents will be
notified tomorrow (Tuesday) to confirm that.
—-
Tabusintac accident
A 20-year-old man was taken to hospital with life-threatening injuries after
a two-vehicle collision north of Miramichi Saturday…and was still in
critical condition at last report.
RCMP were called to Route 11 near Covedell, between Tabusintac and Neguac
where a pickup crossed the media and collided head-on with a small car. The
man in the car was taken to hospital in Tracadie then transferred to Moncton.
Two teens from Brantville in the pickup were not seriously injured.
—-
BORDER HOAX
Two Halifax-area brothers, Bailey and Damien Roy, 21 and 22 respectively,
have been charged with a terrorist hoax at the border between Woodstock, New
Brunswick, to Houlton, Maine on October 26th.
The RCMP dealt with a suspicious vehicle stopped between the Canada and U.S.
entry points.
The men inside the vehicle refused to communicate with border agents.
About six hours later, when the vehicle proceeded toward the U.S. port of
entry, both men were arrested by U.S. Customs and Border Protection officials
and the vehicle was seized.
—-
SWOOP AIRLINES
Swoop, a discount airline run by WestJet, is taking some serious heat, after
three consecutive flights from Halifax (Nova Scotia) to Hamilton, (Ontario),
were cancelled on the weekend.
Two cancellations were due to mechanical issues, while one was after a flight
attendant got an ear infection, which means she could not fly.
Swoop passengers had to wait until another flight attendant was flown in from
Hamilton.
Swoop offered some people a refund for their ticket.
However, many people remain upset due to a lack of communication from the
airline, and have vowed to never fly with Swoop again.
—-
TRUDEAU TRIP
The findings of a special security review into Liberal Prime Minister Justin
Trudeau's much-maligned trip to India will be released later today (Monday),
according to the CBC.
That's because Jaspal Atwal, a Canadian man convicted in a failed attempt to
assassinate an Indian cabinet minister, had been invited to a formal event
hosted by the Canadian High Commission in Delhi.
A photo of Atwal posing with Sophie Trudeau then went viral.
In addition, Trudeau was repeatedly criticized for wearing traditional Indian
clothing to official functions.
His efforts to convince the Indian government to lift tariffs on Canadian
peas, beans and chick peas, failed.