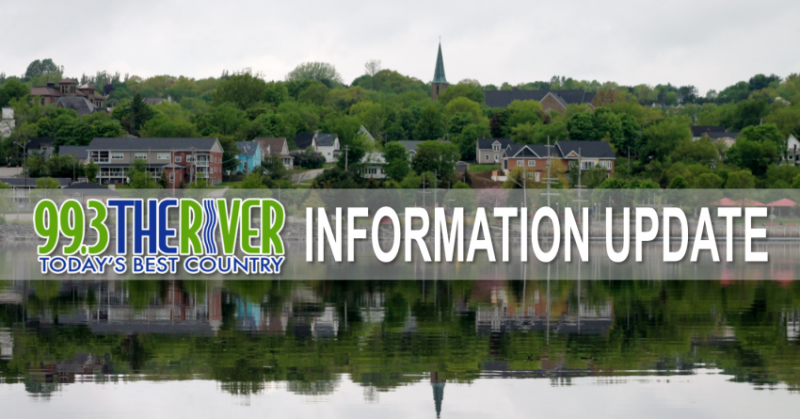 99.3 The River News—-Dec 23rd, 2020
ALL STORIES FROM MBS NEWSROOM
—-
BRIDGE FUNDS
Next year will see construction on a new transportation link at Miramichi's southwestern edge continuing.
The provincial 2021-22 capital budget includes about $15 million for work on Phase 1 of the Anderson Bridge replacement project.
Department of Transportation and Infrastructure (DTI) spokeswoman Jennifer Boudreau tells the Leader …. work on the north and south abutments that started this year is expected to resume in May and wrap up in June.
The initial work on the six-span bridge, crossing the Northwest Miramichi River, was included in teh departments 2020 capital budget.
The substructure began to take shape earlier this year.
The existing Anderson Bridge will remain open until the new bridge is completed and will then be demolished –  although there have been calls in recent years to keep it open for off-road vehicle access.
—-
HOMICIDE   
A 43-year-old man from Val-d'Amour, has plead guilty to charges in connection with the homicide of 71-year-old Lucille Maltais.
The charges stem from an incident back in 2016, when members of the Campbellton RCMP were called to a house fire on Rue Melanson, where the body of a woman was found inside the home.  investigations deemed the fire had been deliberately set and her death was deemed a homicide.
Charles Alex Maltais was arrested and charged with second-degree murder and arson
He pleaded guilty to one count of manslaughter and one count of arson.
He is scheduled to return to court in February for sentencing.
—-
MILITARY CP CHARGES    
A member of the Canadian Forces who pleaded guilty to accessing child pornography is still working at the army's command and staff college in Kingston.
Capt. James Fancy, 56, of Belleville was charged with possession of child pornography and making child pornography available.
Fancy pleaded guilty to charges in November, but hasn't left his position as assistant operations officer at the Canadian Army Command and Staff College.
The Canadian Forces hasn't commented on why he's still employed with the military his sentencing is scheduled for January
Another Canadian Forces member is also facing a child pornography charge.
Maj. Michael Ryan Tellier, 35, of victoria BC was arrested in September when police found images of child sexual abuse in his home.
A court appearance for Tellier is also scheduled for Jan
—-
COVID UPDATE  
There are now 46 active cases of Covid-19 across New Brunswick with 2 new cases reported yesterday
both are in the moncton region, one is related to travel while the other is a contact of a previously confirmed case.
meanwhile zone 4 – the edundston region has moved to the yellow phase because the growth of nwe cases has slowed
—-
RAYMOND NO APPEAL     
The Crown says it will not appeal the verdict in the murder trial of the man found not criminally responsible for the deaths of four people in Fredericton in 2018.
Matthew Raymond shot and killed Donnie Robichaud, Bobbie Lee Wright and police constables Sara Burns and Robb Costello outside the apartment building where he lived.
He testified at trial  he believed he was defending himself from demons at the time of the shooting. The crown had argued he had planned and was aware his actions were wrong – but say they will not appeal the verdict that found him not criminally responsible.
Since the verdict Raymond has been deemed a high-risk accused by the courts, meaning only a judge can set him free in the future.
He is currently being held and  treated at the Restigouche  psychiatric hospital in Campbellton
—-
GRAND FALLS MURDER
A man has been charged with second-degree murder in the stabbing death of a 32-year-old woman in Grand Falls on Monday. Grand Falls Police had confirmed a suspect was in custdy following the incident and CBC is now reporting Jonathan Fontaine was charegd with second degree murder in an Edmundston Courtroom this morning. Family tell CBC 32-year-old Mindy Godin was stabbed in her home in Grand Falls, in front of her two children, on Monday morning.
She then fled to a nearby convenience store but died before help could arrive. Its not yet clear what the relationship was between Godin and Fontaine, who remains in custody.
—-
NB-LABOUR BARGINING     
Members of the Canadian Union of Public Employees' in New Brunswick are upset the Higgs government is showing an unwillingness to offer wage increases.
36 bargaining units are either negotiating, or are set to begin negotiations, with the Higgs government
Premier Blaine Higgs says a $183 million-dollar  deficit brought on by the COVID-19 pandemic is the reason he can't offer more
CUPE president Brien Watson tells Brunsiwick NEws  – about 20,000 CUPE members are currently without a collective agreement,
—-
NATIONAL-COVID UPDATE   
Across the country there are over 6,000 new confirmed cases, bringing the active count to 75 and a half thousand there have also been 93 deaths bringing the number of people to have succumed to the virus to 14,425
—-
  NEW STRAIN
Canada's chief public health officer says there have been no detected cases to date of the new strain of coronavirus in Canada.
Dr. Theresa Tam says so far, Canadian authorities have not discovered any instances of the concerning new variant of the virus that's behind a rapidly growing outbreak in Southern England. While theres nothing to suggest the new mutated strain causes mroe sever illness, tehre is evidence it may be considerablly more contagious.
Meanwhile, drugmaker BioNTech, which partnered with Pfizer on the Covid-19 vaccine, is issuing reassurances that thhe vaccine should remain effective against the new strain. It also says if the strian were to show resitance, the vaccie could be adijutsed to the new strain in about six weeks