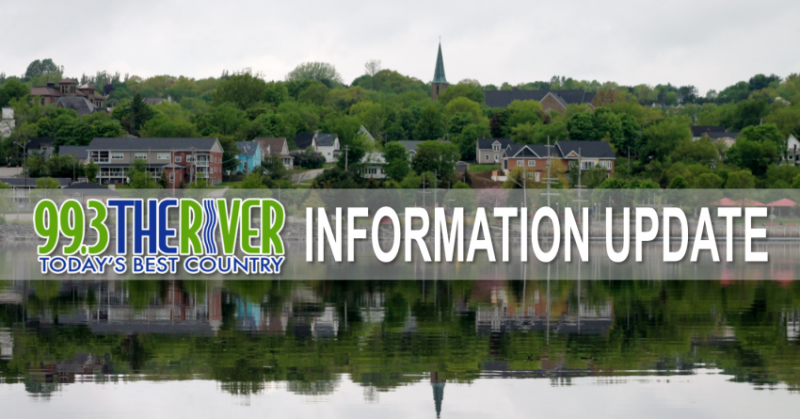 99.3 The River News – Dec. 2, 2019
(FROM MBS NEWSROOM)
Shoreline work
Traffic may get messy on Water Street at Hay Street in Chatham this week.
Mayor Adam Lordon has posted on Twitter that the city is doing some shoreline
work there and flag people will be directing traffic.
North Shore Construction is putting armour stone in to reinforce about 55
metres of riverbank west of Hay Lane.
—-
BOGUS TIP
The family of a man who was fatally shot by police in Bathurst nearly five
years ago is offering a $10,000 reward for information surrounding his death.
Michel Vienneau was shot in his vehicle outside the Bathurst train station in
January 2015, by police acting on a tip that he was carrying drugs.
His brother Nicholas Vienneau's, in a Facebook post, says the police were
acting on "bogus" CrimeStoppers tips, and all information concerning his
death will be considered.
An arbitration hearing is being held to determine if the officers who shot
him will keep their jobs.
—-
Bourque dinner
The Miramichi Timberwolves have announced the headliner for their annual next
dinner and auction in May.
Hockey Hall of Famer Ray Bourque will headline the club's fundraiser May 30th
at the Miramichi Civic Centre. The team will be announcing details on how to
get tickets in the coming weeks.
Bourque played 21 seasons with the Boston Bruins, winning the Norris Trophy
as the NHL's best defenceman five times and was runner up six more seasons.
Bourque holds NHL records for the most career goals, assists and total points
by a blueliner. He finished his career winning the Stanley Cup with the
Colorado Avalanche in 2001.
—-
PREMIERS MEETING
Canada's premiers began meetings today outside Toronto for the first time as
a group since the federal election.
Atlantic premiers have said their priorities include health care funding,
pharmacare, labour and immigration, and natural resource development.
On health care, the four premiers want Ottawa to ensure federal funding
recognizes the changing demographics of the Atlantic region with its aging
population.
—-
REG  WEATHER
Forecasters say a messy mix of wintry weather is on the way for most areas of
Atlantic Canada.
Environment Canada has issued snowfall and freezing rain warnings for all of
New Brunswick, except the province's southeastern edge.
Nova Scotia and P-E-I are to see a mix of snow and rain over the next three
days, with the precipitation spreading slowly northward and eastward across
the two provinces this evening.
Meanwhile most areas of Newfoundland and Labrador can expect freezing rain,
ice pellets and snow in western regions tomorrow.
—-
FATAL FIRE
A fire in Pennfield… southwest of Saint John… yesterday morning has
resulted in the death of an 18-month child.
The fire destroyed the home of a family of five and was reported around 1am
along Highway 175.
The rest of the family including the couple and their four-year-old twins
were able to escape uninjured.
Red Cross is assisting with emergency lodging. The cause of the fire is
currently under investigation.
—-
CHATTY DOC
A New Brunswick doctor who was found guilty of misconduct in England after an
online chat with a cop posing as a teen has been suspended from practicing in
New Brunswick for nine months.
The suspension, announced Saturday by the New Brunswick College of Physicians
and Surgeons, matches a suspension earlier this month in the United Kingdom.
Doctor Hafeez Awan was sanctioned after making "sexually motivated" remarks
to someone who identified herself as a 13-year-old girl.
Awan — who has an office in Saint John — will be able to resume his
practice after the nine months are up.
—-
HIGGS NUCLEAR
Ontario, Saskatchewan and New Brunswick are turning to small nuclear reactors
to reduce carbon production and fight climate change.
Premiers of the three provinces — all vocal opponents of the federal carbon
pricing plan — made the joint announcement in Mississauga, Ontario.
Premier Blaine Higgs says nuclear technology is an important part of reaching
zero carbon emissions.
The three provinces will work together to determine the best technologies for
the deployment of Small Modular Reactors — called S-M-Rs — in Canada.
—-
PREMIERS MEETING
Premiers of all the provinces and territories gather today near Toronto to
try to shape a collective agenda for their relationship with the federal
government, after the October federal election.
Many of the leaders have had their own meetings since the October vote
resulted in a Liberal minority government that has no Prairie M-Ps, plus a
resurgent Bloc Quebecois.
Yesterday some of the premiers outlined what they will be talking about…
jobs and health care issues were high on their to-do lists.
—-
Climate-Carney
A Canadian has been appointed to lead the United Nations battle against
Global warming.
Secretary-General Antonio Guterres says the world has the scientific
knowledge and the technical means to limit global warming, but it lacks the
"political will".
So he has appointed Canadian Mark Carney to be a U-N special envoy on climate
change. Cartney will be leaving his job as governor of the Bank of England
shortly.
—-
Premiers-Nuclear
New Brunswick, Ontario and Saskatchewan are turning to small nuclear reactors
to reduce carbon production and fight climate change.
Premiers of the three provinces made the joint announcement in Ontario before
the main First Ministers Meeting.
Premiert Blaine Higgs says nuclear technology is an important part of
reaching zero carbon emissions.
New Brunswick-based ARC Nuclear Canada hopes the three provinces coming
together will demonstrate the role that small reactors can play in helping
Canada reach its climate change goals. The company says it's committed to
commercializing an advanced S-M-R to provide safe, economically competitive
and carbon-free energy.
—-
SPORTS
In the Q-League…The Titans lost 5-3 to the Cataracts in Bathurst.
In the big leagues…the Canadiens lost their eighth straight 3-1 in Boston.
Edmonton edged Vancouver 3-2.
Pascal Siakam had 35 points as the Raptors crushed the Jazz 130-110.
In the NFL…the Houston Texans beat the Patriots 28-22.