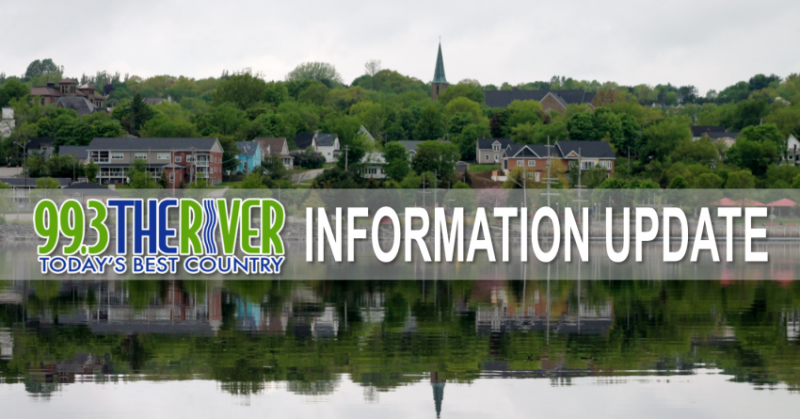 99.3 The River News – Dec. 13, 2019
(From MBS Newsroom)
Teacher's award
A Miramichi teacher has won the Minister's Excellance in Education award.
Leslie Stewart, who teaches at Max Aitken Academy is one of ten educators in
the province cited for their patience, passion and ability to connect with
students. Stewart has spent 15 years working at the middle school,
according to the Leader, spearheading its unified basketball team made up
students with and without special needs. Stewart has also educated her
students about residential schools in First Nations communities. Then she
helped them organize the Relay for Truth fundraising event to support
residential school survivors and create awareness surrounding truth and
reconciliation.
—-
LAND FISH
The vacant lobster plant in Grand-Anse on the Acadian Peninsula could soon be
filled with Salmon.
According to CBC… RC Organic Northern Products is proposing to use the site
for a completely land-based salmon farm… the first of its kind in New
Brunswick.
The business would employ five to ten people and anticipates to produce up to
400-thousand-kilograms of salmon annually… hatching the fish and growing to
market size.
Grand-Anse Mayor Gilles Theriault says they have little environmental
concerns and work on the aquaculture operation could start as soon as next
year.
—-
BUDGET
Miramcihi's proposed $10.3 million capital budget would see half that money
go to the engineering department, mainly for road work.
The Leader reports two million would be earmarked for resurfacing, while other
money is set aside for a potential new roadway in Douglastown, a new
sidewalk along the King George, and reconstructing Queen Street in Chatham.
Just under a million will be spent on maintaining and upgrading city parks.
Other spending includes $300,000 for maintenance and necessary upgrades of
recreational facilities that would close should the multiplex project go
ahead; another $100-thousand has been allocated for ballfields.
The proposed operating budget for 2020 still needs to be approved by council.
—-
PLEAS
A Blackville man if facing two trials after pleaded not guilty to charges
stemming from a police chases, counterfeit cash and other offenses.
37-year-old Billy Joe Underhill entered the not guilty pleas this week to
failing to stop for police and possessing counterfeit American currency,
according to the Leader. Underhill also pleaded not guilty to seperate
charges of theft and a three counts of driving while suspended.
He'll go to trial on the bulk of the charges April 23rd, while a second
trial will deal with the failing to stop for police on April 29th….and
Underhill says he will be representing himself at trial.
—-
Train station order
Miramichi City Council says the owners of the burnt-out Chatham fire station
need to move now to fix it up or demolish it.
Owners Henrietta and Francois Hache asked for more time a few weeks ago and
were given an extra two weeks to come up with plans to save the building on
Johnson Avenue…turning it into either retail space or apartments.
City council voted unanimously last night to enforce the compliance order
saying the Haches have had enough time.
Councillor Tara Ross-Robinson said she understands Hache is busy, but some
items need to take priority regardless of other commitments.
—-
HIGGS CONFIDENCE
Premier Higgs says the proposed essential service legislation around nursing
homes is a line in the sand for his government.
Higgs told reporters the bill needs to pass by the end of the month and he
will make it a confidence vote.
People's Alliance Leader Kris Austin who has propped up the minority
government in the past says changes around how paramedics are classified must
change before they will support it.
Higg's says he doesn't want an election but the bill that changes who is
classed as essential service and rules around binding arbitration is needed
to move forward.
—-
GAS PRICES
The carbon plan given the green light by the federal government this week
will end up costing about two-cents a litre as gas pumps as of April 1st.
Premier Higgs tells CBC there are still some things to work out, but two
cents is the approximate number.
It is a signficant reduction of the 4.4 cents that was rising to 6.6 as part
of the federally imposed carbon plan applied to the pumps earlier this year.
Money collected from the carbon tax will go back into climate initiatives
under the new deal.
—-
NB SIRT
A consultant is recommending the New Brunswick Police Commission create a
police watchdog agency similar to Nova Scotia's Serious Incident Response
Team.
It would be a civilian agency which would investigate incidents involving
police where a citizen suffers death or injury. That was one of 22
recommendations in the report.
Public Safety Minister Carl Urguhart says he will bring together
stakeholders to discuss the recommendations in the next month or two.
—-
YOUTH CENTRE MOVING
The Higgs Government is moving the youth psychiatric health centre to Moncton
while announcing new plans for the nearly complete previous location in
Campbellton.
Health Minister Ted Flemming says a site in Moncton has yet to be chosen and
former child and youth advocate Bernard Richard will help in that process.
Construction on a new $14.4 million facility in Campbellton was halted
earlier this year after a scathing report on the neighbouring adult facility.
That building will now become a state of the art rehabilitation centre for
addictions and mental health needs.
—-
SCHEER DONE
Andrew Scheer is done as leader of the Conservative Party of Canada.
He has announced he is stepping down and it's the right decision for the
party.
Scheer — speaking in the House of Commons — says, as they chart the course
ahead, the party will need someone who can give 100 per cent to the effort
and he feels it's time to put his family first.
Scheer says he'll step down as soon as his party chooses a successor and will
remain in his role as MP in the Commons.
—-
Britain-Brexit-Election
Prime Minister Boris Johnson's Conservative Party has won a thumping majority
in Britain's Parliament — a decisive outcome to a Brexit-dominated election
that should allow Johnson to fulfill his plan to take the U-K out of the
European Union next month.
It was a disaster for left-wing Labour leader Jeremy Corbyn, who faced calls
for his resignation even as the results rolled in.
—-
SPORTS
In the M-H-L…the Timberwolves lost 5-4 to the visiting Blizzard.
NHL action saw the Flames beat the Leafs 4-2 for their seventh straight win.
Lightning zapped the Bruins 3-2. Jets lost 5-2 in Detroit. Wild clipped the
Oilers 6-5. Canucks had a 1-0 overtime win against Carolina. (The Penguins
also needed overtime to beat Colubus 1-0.)