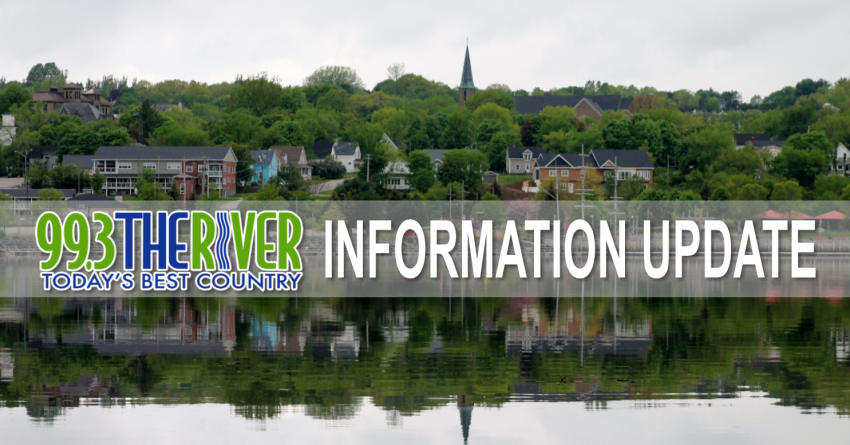 99.3 THE RIVER NEWS – AUG 1, 2019
(FROM MBS NEWSROOM)
Storm blackouts
Severe thunderstorms slashed through the middle of the province yesterday
knocking out power to thousands of NB Power customers.
A line of severe storms ran from the St. Stephen area through Fredericton and
Miramichi and out the Acadian Peninsula. There were other storms around
Edmundston.
Most of the blackouts were on the Acadian Peninsula, Restigouche and
Madawaska-Victoria areas. Most people had their lights back on yesterday
evening…but there were still small outages this morning in the Pointe
Sapin, Edmundston and St. Stephen areas.
—-
Renous inmate injured
RCMP are investigating an assault that injured an inmate at the Atlantic
Institution in Renous Sunday evening.
Then inmate was assessed at the maximum security prison and then taken to
hospital. No word on his condition this morning.
His assailant has been identified, according to the Leader, and Corrections
officials have taken appropriate actions.
No staff members or other inmates were injured.
—-
Food bank moving
The Miramichi Community Food Bank will be moving soon.
It has found a building with triple the space just off Newcastle Town Square.
The former Peek-a-Boutique on Henry Street has 1,800 square feet which will
allow them to put in a larger walk-in freezer. It has three doors instead of
the one at the current location. Food bank co-ordinator Jean Matchett told
the Leader they're hoping to have renovations finished and move in in
September.
Matchett says it's close to a bus stop which will provide some privacy for
clients….and there are a growing number of them, with 400 families or
600-700 individuals using the food bank each month.
—-
MARITIME IRON AGREEMENT
Maritime Iron has taken a big step towards the proposed pig iron facility
that could create over 200 full time jobs in Belledune.
The company has signed a Relationship, Capacity and Indigenous Knowledge
Study Agreement with First Nations of Eel River Bar, Pabineau, and Eel
Ground.
Greg McKenzie, CEO of Maritime Iron tells the Northern Light the study will
assess if there is potentially any project impacts on aboriginal and treaty
rights. The report is expected to be completed by January and will look at
various items such as watersheds and the historical importance of the lands
effected.
—-
French nurses
Some French-speaking nurses have filed a complaint with the Official
Languages Commissioner over the exam they have to take to become registered
nurses.
The exam is a standard one developed in the U-S and translated into French.
An earlier investigation determine while there were a few flaws in the
translation the quality of the translation did not violate the official
languages act.
Now this group of nurses has filed a complaint over the lack of french
preparatory material. They say obstacles discouraging students should be
removed and a Canadian bilingual exam replace it.
—-
SOBEYS BAGS GONE
Sobeys is getting ahead of the curve and eliminating its iconic plastic
shopping bans. It plans to remove plastic bags from all its stores across
Canada by the end of January.
Customers and employees have said they want the stores to use less plastic.
So Sobey is looking at selling reusable mesh bags for produce instead of the
thin plastic. It's also talking to its suppliers about how to replace the
harder plastic clamshell type containers.
Paper bags will be available but Sobeys is hoping people will buy the
reusable bags.
—-
NEW LIQUOR CEO
Patrick Parent has been appointed the new president and C-E-O of N-B Liquor
and Cannabis N-B.
The appointment takes effect September 3rd.
Parent recently served as vice president of operations and human resources at
Moosehead Breweries where he has held a number of senior positions since
2006.
He replaces Brian Harriman who left in April to become an executive with a
private cannabis grower in Calgary.
—-
POLITICO CONFERENCE
New Brunswick will host the 43rd meeting of the Conference of New England
Governors and Eastern Canadian Premiers in Saint John later this summer.
Premier Blaine Higgs says the September 8th through 10th meetings are
important for developing strong relationships within the region and to help
generate "positive, long-term economic benefits."
Topics of discussion will include energy grid modernization, climate change
adaptation and disaster mitigation.
More than 300 delegates are expected including government officials, experts,
researchers and representatives from companies, organizations, and
associations.
—-
ACOA HULL DESIGN
ACOA has announced 740-thousand-dollars in funding to help design the next
shipbuiling breakthrough in Atlantic Canada.
The federal government is asking ship designers to submit their plans to
design hulls that will be more fuel efficient.
Of those submissions, 10 will be funded up to 24-thousand each for computer
simulations of their designs and the winner will receive
half-a-million-dollars for further development.
The Minister for ACOA, Navdeep Bains says in a release, with over 13-thousand
inshore fishing boats in Atlantic Canada there is a need for a hull design
that burns less fuel.
—-
SPORTS
The Blue Jays completed a three game sweep in Kansas city with a 4-1 win last
night. The Rays pulled away from the Red Sox in the wildcard race with an
8-5 at Fenway. On top of the AL East, the Yankees beat Arizona 7-5.