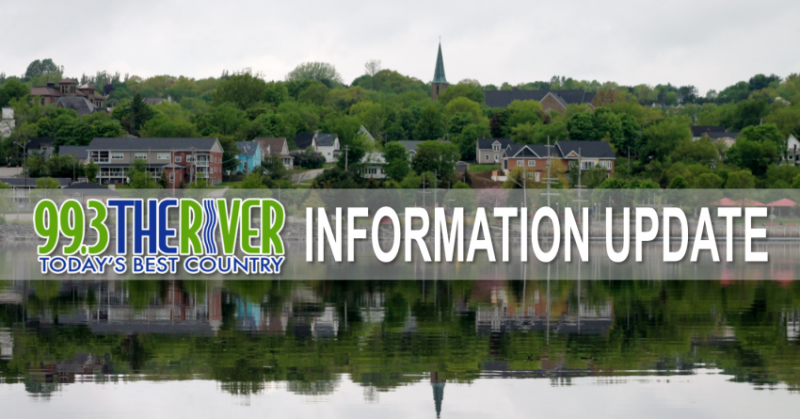 99.3 The River News—-April 9TH, 2020
ALL STORIES FROM MBS NEWSROOM
—-
HOSPITAL READY
So far there have been only two positive tests for COVID-19 in the Miramichi region…and neither is in hospital. But Miramichi Regional Hospital is ready for when cases start coming in.
Medical director Dr. Camille Haddad told the Leader they have had a plan in place for three weeks. The main message for staff is about physical distancing and proper hygiene. Restrictions are in place on visitation; reducing the chances of patients coming in contact with one another regardless of their COVID status. A dedicated unit has also been established with a negative air pressure system to help contain the virus.
—-
 LOBSTERS STILL A GO     
Officials with Fisheries and Oceans Minister Bernadette Jordan's office say lobster season in LFA 23 is scheduled to begin at the end of the month.
Press Secretary Jane Deeks tells the Tribune as of now no changes have been made to the opening date, which normally runs from April 30th to June 30th.
Deeks says the decision is a collaborative one and DFO must recieve a formal request from industry before considering delaying the opening.
LFA 23 extends from Dalhousie around the Acadian Peninusula to Miramichi.
—-
EASTER CANCELLATION 
Premier Blaine Higgs says he understands its hard not to celebrate Easter with loved ones after telling his 99-year-old mother he would not be seeing her this weekend.
During a press briefing Higgs talked about the conversation where he discussed the reasons with his mother why they couldn't get together and said she understood, but it was 'tough.'
Higgs says it isn't easy not being able to comfort your loved ones but as Dr Russell said this is not the time to look for loopholes and we must hold true to what we know is necessary.
—-
PROVINCIAL BENEFIT       
The $900 provincial benefit expires tonight. The deadline to apply if you have lost your job because of the coronavirus is this evening at 8:00pm.
Premier Blaine Higgs says he's pleased to see everything going as planned at the federal level and people will begin receiving those benefits soon.
Red Cross staff are working all out to process the applications for the provincial bridge funding and Higgs says about $20 million is being paid out to over 60,000 people who have applied so far.
—-
 SHANNEX MASKS               
Shannex who operates retirement and long-term care homes in Nova Scotia and New Brunswick is now requring staff to wear non-medical masks while at work.
According to CBC a memo was sent to all employees says wearing the masks is important added protection to go with other steps already being taken by the company.
The memo says non-medical masks will only be worn around residents not under infectious control measures, in infectious cases appropriate PPE will be worn.
The Shannex directive comes after news of Shannex employees testing postive in Halifax, Dartmouth, and Quispamsis.
—-
WORKSAFE COMPLAINTS   
WorkSafeNB says of over 200 complaints its received due to COVID-19 measures in the workplace they have only had to issue three orders.
CEO Doug Jones says two were for physcial distancing guildines and the other was a service-sector company that didn't have hand sanitizer for the public.
Jones says the companies immediately complied and says they have been very pleased with the co-operation they've been receiving in general.
Most of the calls Jones says are workers concerned about conditions, but eduction with both the employee and workplace over the phone has resolved the issue.
—-
NEW CASES
The chief medical officer of health is reporting three new cases of COVID-19 in the province for a total of 108.
Dr. Jennifer Russell says six people are in hospital, including four in intensive care.
Russell says the province appears to be doing better than many other jurisdictions but she is urging people to stay home during the Easter weekend to save lives. She says it would be tragic to see an upsurge in cases because people decided to ignore directives to practice physical distancing.
—-
COVID NUMBERS
The death toll from COVID-19 in Canada is now up to 435 with over 19,000.
Ottawa is set to release its projections on the progress of the disease throughout the country, including best and worst case scenarios for the number of cases and deaths, and the duration of the crisis.