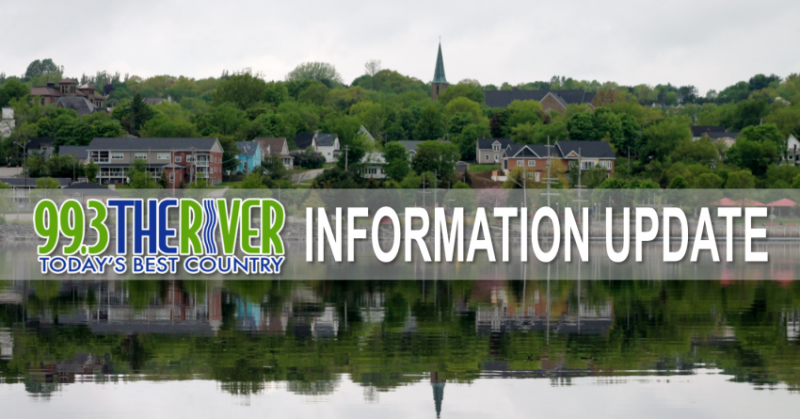 99.3 The River News—-April 27th, 2020
ALL STORIES FROM MBS NEWSROOM
—
FIRES
There were a lot of fires around the province on the weekend.
A woman and two children were forced out of their home at Esgenoôpetitj First Nation late friday. Nobody was hurt.
A man lost his mobile home and belongings to a blaze Saturday afternoon in Knowlesville, east of Florenceville-Bristol. He was checked by paramedics at the scene but wasn't seriously injured.
Seven people including an infant and two other children were forcedout of their apartments in Saint-Laurent, north of Bahurst around 11:00 Saturday night. Nobody was hurt in that one.
And no injuries as a father and his five children were displaced yesterday afternoon when flames extensively damaged their home in Waterville, north of Woodstock.
All the fires kept Red Cross Volunteers very busy arranging emergency accomodations for those who needed it and emergency supplies for all.
—-
COVID NUMBERS
Eight straight days now in New Brunwick with no new COVID-19 cases.
The Chief medical officer didn't hold a briefing yesterday but was still on the job issuing a statement saying the number of cases stands at 118…. 111 have recovered, leaving just seven still fighting the virus….four of them in hospital.
Dr. Jennifer Russell said "We are in a fortunate position in New Brunswick", but this is still the time to be patient and vigilant.
Premier Higgs and officials are making plans to gradually reduce restrictions and get people back to work next month.
Nationally there are almost 47,000 cases now with 2,560 deaths….and globally it's 207,000 deaths out of almost 3 million cases.
—-
SHOOTINGS
Tim Hortons across Canada has launched a campaign to support those affected by the murders in Nova Scotia.
The Nova Scotia Strong donut is now on sale in Nova Scotia with 100 per cent of proceeds going to the Canadian Red Cross Stronger Together Nova Scotia Fund.
The donut goes on sale across Canada on Wednesday.
N-H-L stars Sidney Crosby and Nathan MacKinnon — both from Nova Scotia — have recorded a video to help raise awareness of the campaign.
—-
HERO MOUNTIE     
An R-C-M-P officer's final — and fatal — decision removed a killer's most potent advantage, likely saving many lives.
The President of the National Police Federation … Brian Sauve … also says Constable Heidi Stevenson was a hero when she crashed her RCMP cruiser last weekend into a mock police vehicle being driven by a killer in Nova Scotia.
The killer had a replica R-C-M-P car and wore a Mountie uniform while carrying out a murderous rampage that left 22 people dead in northern Nova Scotia.
Stevenson is also being remembered as a caring wife and mother.
—-
PEI TRIBUTE 
The people of Prince Edward Island are showing their support for the people of Nova Scotia who are grieving last weekend's mass killing that claimed 22 victims.
Premier Dennis King says hearts are heavy with sorrow.
The P-E-I government administration building in Charlottetown will be lit in blue, each evening until the end of the month.
As well, Nova Scotia music will be played around the building, and a metal silhouette of Nova Scotia has been placed in front of the building.
—-
STRONGER TOGETHER
Stronger Together was watched by millions of Canadians yesterday evening as stars and average people broadcast a benefit for Food banks.
Sam Roberts and his kids kicked it off from their home with "We're All In This Together." It ended with many people singing "Lean on Me".
Rick Mercer was the first to speak, saying this a "difficult time for our country" and for the people of Nova Scotia. Others, including Anne Murray also referred to the tragedy two weekends ago.
Food Banks Canada is trying to raise $150-million because of a huge increase in people using its services and a drop of volunteers during the pandemic.
—-
FUNERALS 
One of the 22 victims of last weekend's mass shooting in Nova Scotia is being remembered for her contagious energy.
Funerals are being held one week after one of the most violent days in Canadian history.
Her sister says 49-year-old teacher and mother of two Lisa McCully was a "proverbial entertainer" who loved singing, dancing and children — both her own and those she taught in her elementary school class.
There was a framed photo on a table next to a grey urn and bouquets of flowers.
The service was streamed online for those prevented from attending due to
COVID-19 gathering restrictions.