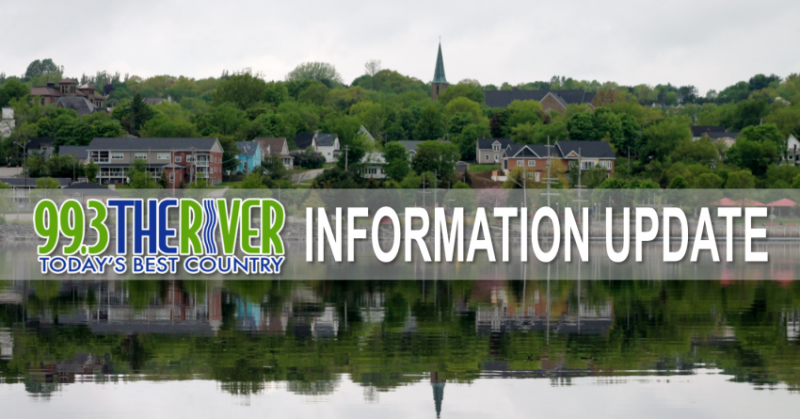 99.3 The River News—-April 1st, 2020
ALL STORIES FROM MBS NEWSROOM
—-
TESTING GAPS
Provincial numbers released yesterday show some gaps in testing for COVID-19 across New Brunswick with Miramichi and Campbellton trailing behind.
Zone-5 or the Campbellton region has only had 104 test done with zone-7 or Miramichi only showing 138… compared to the Moncton area which has administered over 1,200 tests.
Dr. Jennifer Russell says she's been told by a collegue one issue is people showing symptoms don't want to be tested so they aren't calling 811.
Russell says this is allowing the virus to hide and she is encouraging people to call if they are symptomatic.
—-
LOCAL  TESTING       
There are still no postive results for COVID-19 in the Miramichi zone out of
138 tests. Also no positives out of more than 200 in Bathurst and the Acadian Peninsula area but there have been seven positives in the Campbellton region.
Fewer people are presenting themselves for testing in this region and Dr.
Russell says one reason is that some people showing symptoms don't want to report it…and that's allowing the virus to hide.
Miramichi Mayor Adam Lordon tells the Leader we need to make sure that people who are developing any symptoms whether mild, moderate or severe should look at getting tested…better safe than sorry. Call 8-1-1 even if symptoms are mild.
—-ANOTHER AIRPORT CASE    
Another passenger who went through the Moncton airport has tested positive for COVID-19..
The passenger was on Air Canada flight AC7518 from Toronto to Moncton, which landed early in the morning of March 18th. The passenger then travelled to their home on Prince Edward Island.
Five other people who landed in Moncton on flights from abroad or elsewhere in Canada last month have also tested positive.
—-
 ENHANCED PLAN           
Premier Blaine Higgs says an advanced pandemic operational plan could be coming as soon as tomorrow.
Higgs at yesterdays briefing said it will provide details and guidance on how the heathcare system will handle increased cases of COVID-19 taking into account both best and worst case scenarios.
The Premier says the plan will allow the province to prepare for all situations it we may encounter as the pandemic continues.
—-
IRVING DONATION  
J-D Irving Limited is donating one-million dollars to help offset the growing demand on New Brunswick's network of 60 food banks due to the financial hardships caused by the COVID-19 outbreak.
It's anticipated that there will be as much as a 50 per cent increase in demand at some food banks.
In addition to increased demand, many food banks have lost their ability to raise funds _ thrift stores and other venues have had to close.
With school closures and the cancellation of other youth programs, there is also a need to replace breakfast and other meal programs.
—-
RIVER ICE
Fire Chief Tony Lloyd is urging people to stay off the river.
The Leader is showing a picture of a man riding a bicycle on the ice yesterday. Chief Lloyd says the river ice this time of year is always a concern as it melts from above and below. He told the Leader it's not safe and the thickness can be deceptive…so stay off it.
—-
ELSIPOGTOG MAN IN COURT   
An Elsipogtog man has been found fit to stand trial on stemming from incidents last week.
Christian Rainer Francis appeared in courtin Moncton via video conferencing from the Shediac jail. Francis is charged with assaulting and escaping from police after incidents March 20th and 23rd. He was sent for a one week psychiatric evaluation and has been deemed fit to stand trial.
A bail hearing has been delayed until friday as Francis is trying to finda place to live if he is granted bail, which the Crown is opposing.