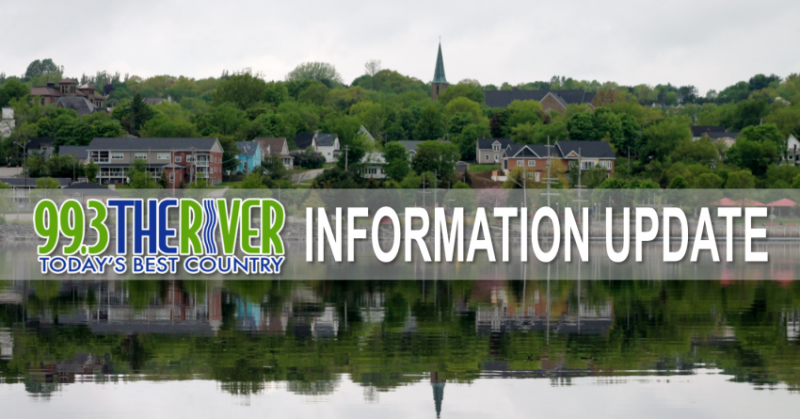 99.3 The River News—-April 15th, 2020
ALL STORIES FROM MBS NEWSROOM
—-
ZERO CASE                  
New Brunswick's chief medical officer of health says the province is moving in the right direction but has not reached its destination in containing COVID-19.
Dr. Jennifer Russell said there were no new cases of the coronavirus yesterday — leaving the provincial total at 116.
But Russell is warning the province can't let up on social distancing and other measures aimed at slowing the spread of the virus for even a minute.
She adds the province has set up a link on its COVID-19 website to process an overwhelming number of offers to donate personal protective equipment to health care workers.
Across Canada more than 9-hundred deaths and 27-thousand cases have been reported.
—-
FLOOD THREAT 
The Flood threat over the coming days has receeded for all but one community along the Saint John River.
In its latest five-day forecast, River watch has the water level meeting,  but not exceeding,  the flood stage of 4.0 meters in Gagetown on Thursday and Friday.
The new forecast now has the water staying below flood levels this week in St.Hilaire and Fredericton, where flood warnings had been issued earlier this week.
—-
BLAINE HIGGS
The Prime Minister is offering to help provinces give temporary pay raises to employees in long-term care facilities so they stay on the job.
Premier Blaine Higgs is saying no thanks, according to Brunswick News. Higgs says health workers in this province haven't faced extra demand due to the
COVID-19 outbreak…and the health system is not overtaxed as it is in other provinces. He says hospitals are at 50%-60% capacity at this point.
There have been few COVID-19 cases in New Brunswick long term care facilities, other than an employee at the Jubilee Hall retirement home in Quispamsis testing positive.
—-
STIFFER FINES   
A minimum number of MLAs will be back in the legislature Friday to pass some new legislation dealing with COVID-19.
Speaker Daniel Guitard says they will follow social distancing rules and only
14 MLAs will take part to pass amendments to the Emergecy Measures Act.
Amendments will be introduced to increase fines for people who violate physical distancing rules. Another bill would amend the Employment Standards Act to protect employees required to self-isolate or stay home to care for family members with COVID-19.
The three opposition parties will be briefed and allowed to ask questions about the legislation ahead of time so speed things up.
—-
 TESTING DEMAND LOW
Dr. Jennifer Russell says the province has the capacity to perform more
COVID-19 tests, but says the demand isn't there.
Russell confirmed at yesterday's briefing 250 tests were done in the last 24-hours compared to more than 14-hundred in Nova Scotia.
She says they have the ability to test at that level but Nova Scotia is on a different trajectory than New Brunswick and there hasn't been the need for the same amount of testing.
Russell says that could change as they are looking at testing some asymptomatic people in "very specific situations."