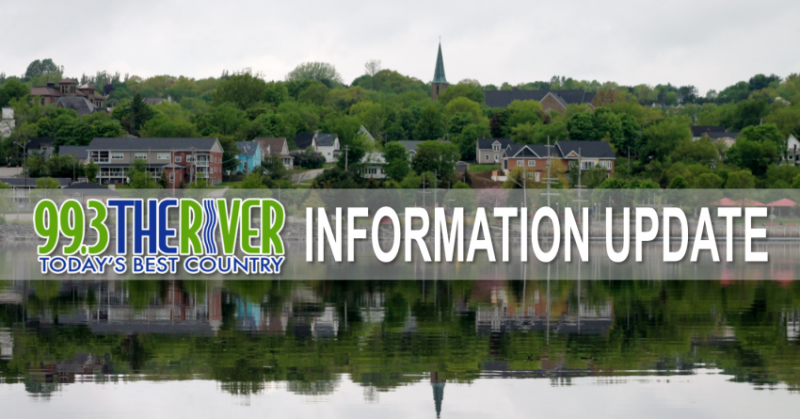 99.3 The River News—-April 14th, 2020
ALL STORIES FROM MBS NEWSROOM
—-
FIRE SAFETY
With people staying home much more these days because of the coronavirus, the Miramichi Fire Department is urging people to be extra mindful of fire safety in the home.
Fire Prevention officer Corey Shaddick tells the Leader that especially with the kids home more, parents need to mindful of those issues and safeguard against them.  Shaddick says you should avoid cooking if you feel tired or are consuming alcohol or cannabis. Stay in the kitchen while the stove is on….and keep children away from cooking appliances. it's also important not leave oven mitts, food packaging and other combustibles near stoves.
—-
COVID NUMBERS
The total number of COVID-19 cases in the province is now 116 after two new cases were reported yesterday.
Chief Medical Officer, Dr.Jennifer Russel announced the cases are in the Fredericton and Campbellton regions.
Russell also announced test criteria was expanding to include symptoms of fever, new or worsening cough, sore throat, runny nose, and headache.
People who have two or more of those symptoms are asked to self-isolate and call 811 or their family physician for assessment.
In Canada there is a reported 780 deaths and over 25-thousand cases.
—-
FINES & EDUCATION 
Premier Blaine Higgs says the majority of people appear to have listened to his warnings to stay home over the Easter Weekend, but 17 tickets were still issued in the last seven-days.
Higgs stated at yesterday's briefing most people are doing what Public Health asked to flatten the curve and slow the spread of COVID-19.
The Premier said in total 26 tickets have been issued since the state of emergency was declared… they ranged in price from just over 290-dollars to as high as 10-thousand-dollars.
Higgs says he's still stressing education over fines with the ultimate goal of people adhering to the rules.
—-
FLOOD UPDATE 
Emergency officials in New Brunswick have slightly revised flood projections for two of three communities that had been issued a warning yesterday.
Despite expected heavy rainfall today through tomorrow, the Emergency Measures Organization says Fredericton is no longer expected to reach the flood stage this week.
Spokesman Geoffrey Downey says flood water levels are also not expected to be as high as previously forecast for nearby Gagetown and for St-Hilaire, near Edmundston.
But he cautions the situation along the St. John River could change rapidly
— noting that it didn't turn for the worse during historic flooding last year until around April 23rd.
—-
GROCERY WASH  
The province says its not clear what role produce and food packaging plays in the spread of COVID-19, but there are additional steps you can take after shopping.
Wipe down cans with approved disinfectant and throw away disposable packaging. Wash all fruits and vegetables throughly.
When you're done unpacking groceries wash any surfaces touched by the grocery bags and wipe down or wash reusable bags.
A release says research is still determining how long COVID-19 can last on surfaces and the steps are just extra precautions you can take.
—-
NB FOOD 
The Government has set up a committee to look into ensuring food security during COVID-19.
Kevin Arseneau, Green MLA for Kent-North, says it's a good "first step" as the planting season approaches. However, he says the food supply system is fragile and the province only produces 3% of what it eats.
Arseneau is proposing provincial subsidies for a portion of the wages of agricultural employees and mandating that public institutions, supermarkets and distributors buy New Brunswick produce.
—-
NB FACE SHEILDS       
A Dartmouth sign company will be shipping 10,000 face shields to New Brunswick for use by front-line workers.
United Sign shifted its production to develop the face shields, according to the Times and Transcript. They are not designed to replace a medical mask but to work in conjunction with them to provide more protection for eyes and noses.
The Health Department says the shields will be given to the health and long-term care workers, emergency health services and the Extra-Mural program. Later shipments will go to pharmacists and veterinarians.
—-
 RAPID TEST 
Health Canada is green lighting a rapid-testing device for COVID-19.
The Spartan Cube, produced by Ottawa based Spartan Bioscience,  is a portable hand-held device that's about the size of a coffee cup.
It eliminates the need to send swab samples to a lab, doesn't require trained technicians to operate,  and can prodcue resutls in about 15 minutes.
It's expected that the cube can help provide rapid tests for rural and remote areas  including indigedouns communities.
It will also be deployed at airports,  border crossings and elsewhere were rapid testing is seen essesential for allowing travel and other sectors of the economy to reopen.
—-
LONG TERM CARE DEATHS     
Canada's top public health official is out with a warning.
Chief Public Health Officer Dr. Theresa Tam says the number of deaths in long-term care facilities is expected to continue to rise — even as the growth of overall COVID-19 cases across Canada begins to slow. Tam also says the outbreak is impacting those in the older age groups, particularly those over 70, saying that is the group that really needs to be protected.
There are now over 25,000 cases in Canada and 780 deaths.